Privilege Manager
Reporting
With Privilege Manager's reporting capabilities, you will have full visibility into exactly which employees and devices have certain types of permissions. Reports also provide data on users who have requested passwords. Beyond our preset reports, custom reporting allows you to create reports that slice and dice the data as you see fit.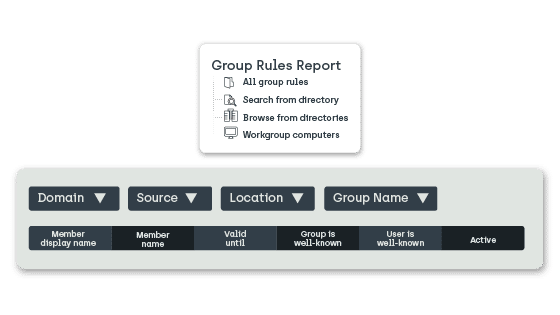 Group rules reports
Easily look in a single list or search to see which group management rules have been created in Privilege Manager. Also see which group rules have been applied to specific groups.
User rules reports
Know which user rules have been created in Privilege Manager. See all user rules in a single list, search user rules for specific devices, or see user rules applied to a specific organization group.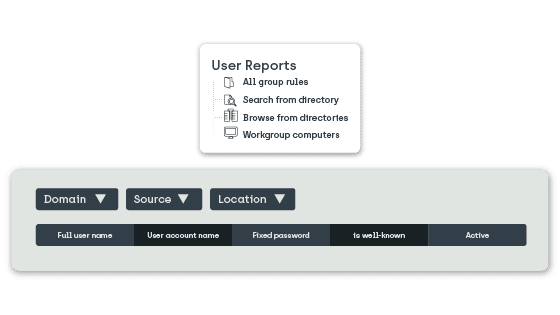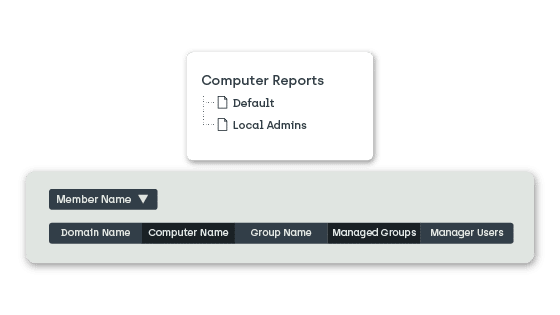 Computer reports
Quickly see which devices have the Privilege Manager client installed. This will also show the local groups and local users on the specific computer even if Privilege Manager is not actively managing the groups or users.
Temporary user IDs
Increase security by seeing which users can use temporary user IDs. Also discover how often the Temporary User ID has been used and quickly see what the reason for the request was for.
Password reporting
Add another layer of protection by gaining insight into which users have requested passwords for specific devices. Reports detail the dates, times, and frequency of password requests.
"With Privilege Manager, you can manage access rights in a centralized manner, which saves time, is easy to manage on a global level, and something Service Desks really benefit from."
-IT Solutions Manager
Let's talk pricing
Interested in receiving a customized quote for your organization? Contact us today.