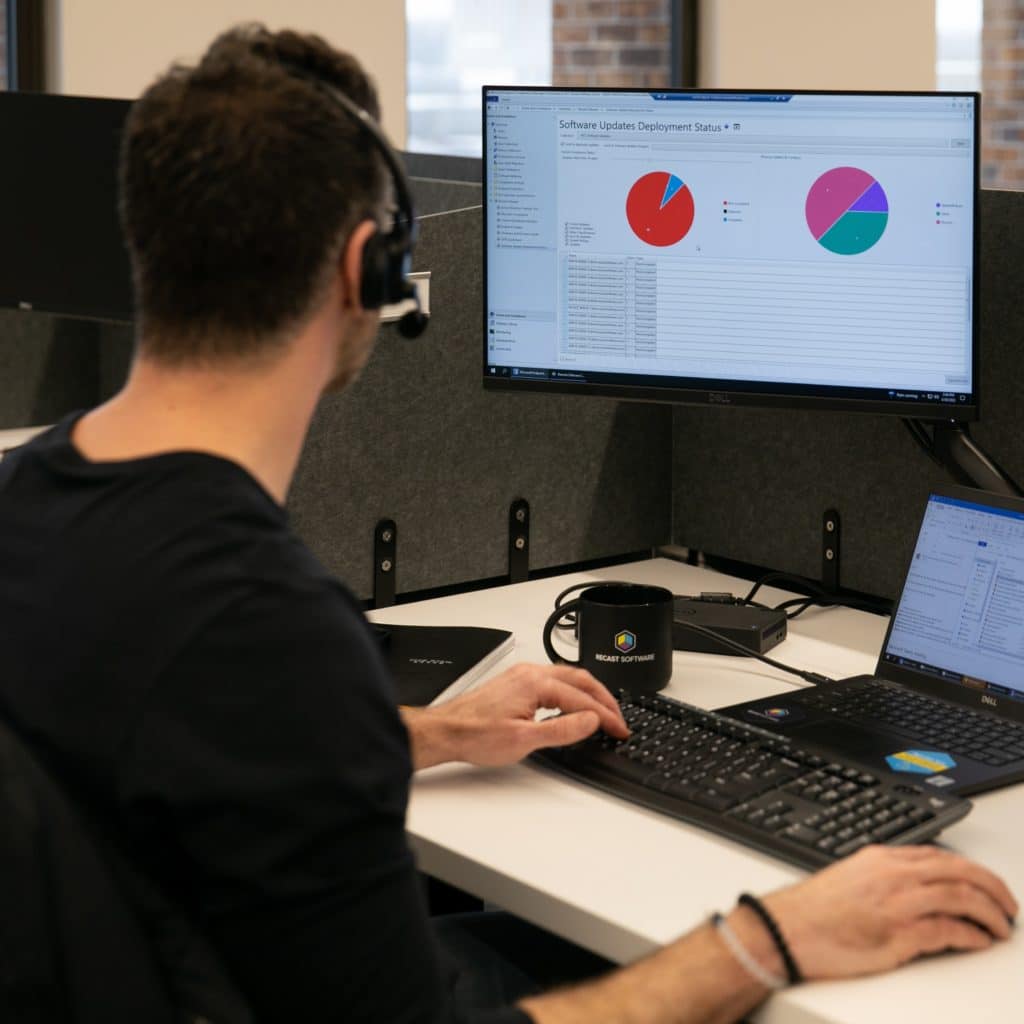 PRIVILEGE MANAGER
The Privileged Access Management solution you've been looking for.
Our Privileged Access Management (PAM) solution enables tighter security policies for all devices and streamlined workflows. Privilege Manager offers simple, secure, and centralized access rights management.
Privilege Manager Features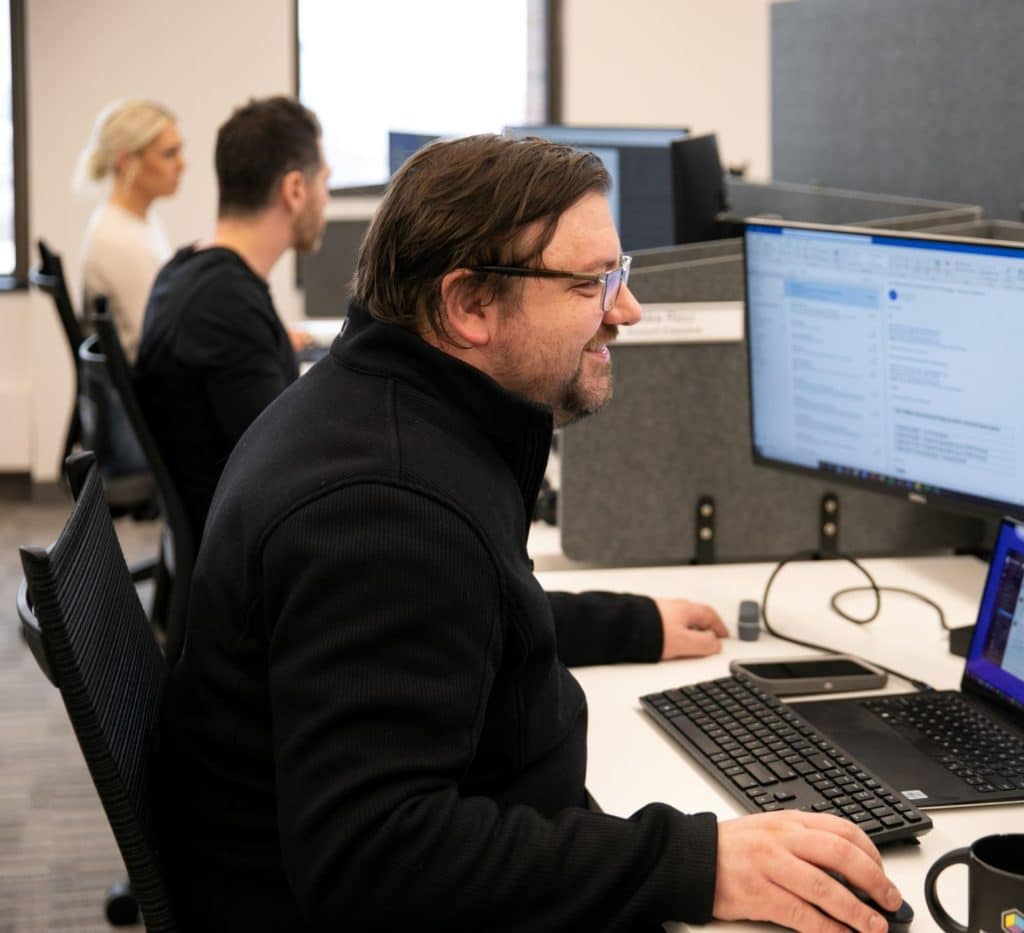 Privilege Manager makes zero trust policies workable without compromising the enterprise.
Experts estimate that 90 percent of all Windows vulnerabilities could be made impossible to exploit by getting rid of unnecessary admin rights. Now, with our PAM solution you can allow end-user self-service without compromising security.
Zero trust security is the most comprehensive way to protect your enterprise. But it can often leave less-privileged users without the access they need and burden your IT team with additional work. Now there's a way to provide users with secure, temporary admin rights to perform just the specific tasks you wish to allow.
Take the leap towards a zero trust security environment. With our Privileged Access Management tools, you can easily grant temporary admin rights and improve security for your entire enterprise. Plus, you can get reports on how many local admins are on each endpoint machine.
Privilege Manager, a PAM solution, offers many benefits:
Increased security– by removing any excess permissions, Privilege Manager keeps users from getting themselves into trouble by installing unapproved software or clicking something they shouldn't. Avoiding these pitfalls saves you time, money, and headaches. Even more reasons why your enterprise needs Privileged Access Management tools to create a zero-trust environment.
Improved user productivity– by not having to wait for a simple task to be authorized by a Service Desk, users no longer need to wait and can continue to work on the task at hand. That's just one more way our PAM services ultimately improve user productivity.
Decreased service desk tickets– Privileged Access Management services reduces the need for service desk. Most users will no longer need to submit a service desk ticket when they're safely given the access they need – just for the tasks they're allowed.
Faster equipment deployment-with predefined user profiles, they can be applied to machines across the enterprise. Our PAM solution reduces the burden of creating them one by one and applying each profile individually.
See the top reasons to get Privilege Manager
Top Used PAM Software Reports:
Activation Codes: Our PAM software allows you to know exactly who has been using the temp admin user credentials for authentication, on which machine, and for what purpose.
Saved Passwords: Retrieve admin passwords from local devices with our privileged password management tools.
Computers: Quickly find out how many admin accounts, users, user groups, and members are on a local machine across your enterprise with our privileged access management services.
Rules: Easily view all policy rules that have been created on a local machine
Privileged Access Management All in One Place
With Privilege Manager, you can manage Windows devices' local user ID's and groups efficiently and in a centralized manner – also as end-user self-service.
You can configure user ID's and groups based on the structure of the existing Active Directory. For example, you can configure domain-specific ID and group rules on domain level, specify them further on the level of organization units, and go even deeper on device level. You can also create and manage new ID's and groups.
Privilege Manager supports known user ID's and groups, meaning it's easy to manage them even if the devices' operating systems would use different languages.
Privileged Access Management powers users with temporary rights
With Privilege Manager, you don't need to give users permanent admin rights for them to perform admin-level operations in organization's device environment. Our Privileged Access Management software improves both your organization's cybersecurity and your specialists' work proficiency.
Centralize Your Privilege Access Management Tools
With Privilege Manager, you can manage Windows devices' local user ID's and groups efficiently and in a centralized manner – also as end-user self-service.
You can configure user ID's and groups based on the structure of the existing Active Directory. For example, you can configure domain-specific ID and group rules on domain level, specify them further on the level of organization units, and go even deeper on device level. You can also create and manage new ID's and groups.
Privilege Manager supports known user ID's and groups, meaning it's easy to manage them even if the devices' operating systems would use different languages.
1 Rights not sufficient?
User is trying to do something that requires wider access rights, and Windows asks for an admin ID.
2 Self-service operation with Privilege Manager
With Privilege Manager, the user can perform the operation requiring admin rights as self-service.
3 It takes just one click
The user types in the reason they need to perform the operation and clicks "Yes" in the Windows dialog.
4 Operation performed!
The user can perform the operation, thanks to Privilege Manager, and the work can continue without interruptions. 
Even if an operation requires admin rights, the end-user can perform the operation independently, without any help from the IT support.
Once the set time period ends, or the operation is performed, the privileged access management rights return to their normal level.
Any passwords and confidential information remain secure at all times.
How Privilege Manager Benefits an Organization?
Improved Information Security with Privileged Access Management
Improve your level of cyber security by limiting the risks of malware and incorrect operations with centralized access rights management. Reduce the threat to your business critical resources and maintain privacy control.
Less pressure on IT support
Users can, where required, independently perform admin-level operations, with no need to burden the IT support with the task. The specialists in the IT support can focus on more demanding operations.
Privilege Manager can report on the reasons the users have needed the wider rights for. Without Privilege Manager, it's impossible to monitor and report the reasons.
Efficiency to Information Work
Your work is more efficient when you can install applications and drivers as self-service, without any help from the IT support.
With Privilege Manager, it's effortless and fast to perform operations that require admin rights. Work without interruptions and let our PAM software solution take care of the privileged access management service in the background.
Privilege Manager doesn't require internet access to work, meaning you can perform admin operations when traveling as well.
Various Ways for Performing Admin-Level Operations
Thanks to Privilege Manager, the administrator has diverse options for configuring the user ID's and groups. The administrator can give users different possibilities for performing admin-level operations.
FAQ
What kind of infrastructure does Privilege Manager require?
Privilege Manager works in Microsoft environment on Windows devices. For devices in their own Active Directory, you can use the AD's structures to align your Privilege Manager and/or zero-trust rules. For other devices, we'll concoct device-specific rules. Platform-wise, Privilege Manager requires a Microsoft Server and a Microsoft SQL Server software – and the free Express version is sufficient.
What does Privilege Manager require from the users' workstations?
Microsoft-supported versions of the Windows operating system + NET Framework 4.x
Does Privilege Manager work without internet connection?
You can use an activation key offline, without connection to the organization's internal network. However, a user can't create an activation key offline, and needs to request it from the help desk, if they need it when offline. To run any new rules for the devices, the devices need to be connected to organization's internal network. You can also configure Privilege Manager to work only with internet connection.
Can you limit the temporary access rights to the user's own device?
Yes.
Does Privilege Manager have a management interface the customers could use on the application level?
There is a management interface, but for now its use is limited to requesting the activation key.
Can you configure a temporary admin right for a domain ID?
Yes, you can.
Can you use Privilege Manager to manage devices linked to Azure AD?
Yes, you can, but when doing so, you can only manage them device-specific and not in groups.
Does Privilege Manager keep a log on what the admin rights have been used for?
For data protection reasons, this information is not recorded. Privilege Manager's operating logic is based on the idea that when a user knows their use of admin rights is being controlled, one way or another, the threshold for misuse is high enough. However, the administrator can check the log for when the admin rights have been activated for use.
Privilege Manager Features Overview
User Privileges
Take control of user privileges – all in one place. Privilege Manager lets you grant and view end-user privileges across your entire environment. Now you can streamline permission requests while keeping your security intact.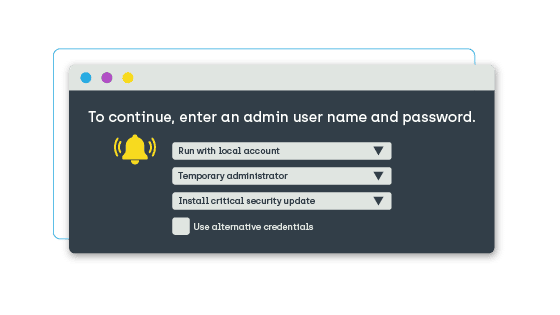 Self-service
Securely allowing users to perform tasks that usually require a help desk ticket not only frees up your help desk from tedious tasks, it also improves the end user experience across your enterprise. Privilege manager can give users the self-service independence they deserve.
Access code
If a user needs to install a piece of software, for example, the help desk can grant them a single-use activation code through Privilege Manager. This allows the user to download and complete the installation quickly and at their convenience. It also provides direct reporting to the IT team on when and why the software was installed.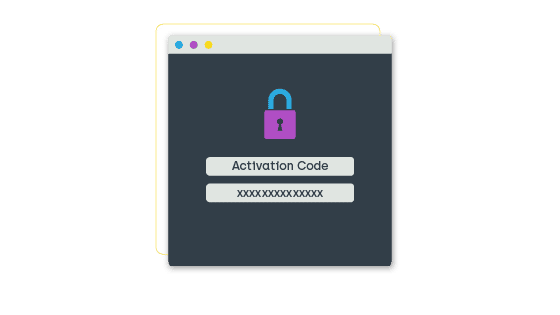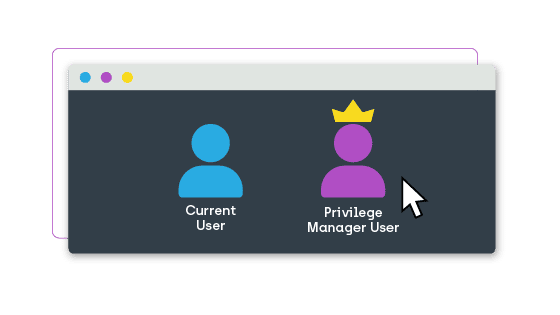 Alternate user IDs
Privilege Manager can also provide users with a user ID different than their own that has a set of predetermined access privileges. This allows for the completion of a selected set of tasks with no disruption to their existing privileges, saving the help desk time and getting the end user back into action faster.
Current user IDs (online only)
If the user ID is part of a specific domain, access can be provided through their current user ID. To complete tasks through this method, the user device must be online.
ID Management
Creating and deploying consistent user IDs and groups at scale is a slow and error-prone process. This could leave glaring holes in your enterprise security. Privilege Manager streamlines your ID management, giving you complete control. Leave nothing to chance while improving your overall IT security and efficiency.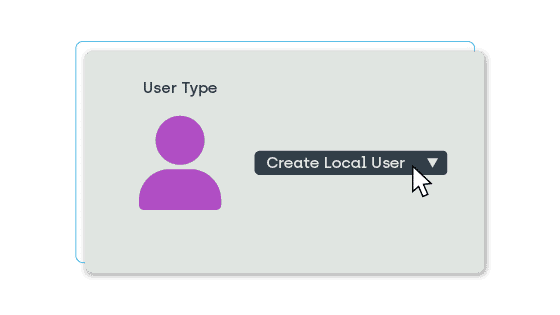 User ID creation
Privilege Manager gives you incredible flexibility in the creation of local user IDs and groups. Whether you are using the structure of your existing Active Directory or predefined rules and permissions, using a specific device type or configuring domain-specific IDs and group rules on the domain level, Privilege Manager has it covered for all these instances and more.
Password management
Privilege Manager is focused on empowering your help desk to accomplish more while being safe and secure. Your team can use a Privilege Manager created local admin account and password to install software, troubleshoot or whatever is needed to help resolve the ticket.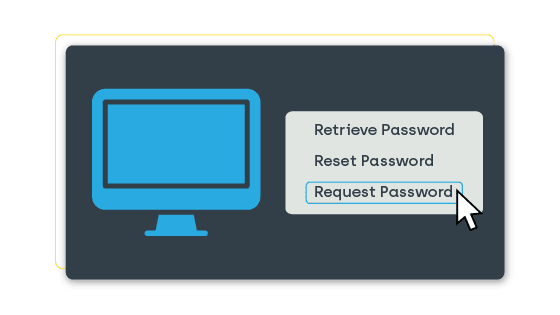 Group Management
Creating, managing, and scheduling user groups across environments has always been a difficult and tedious task. Privilege Manager makes it all possible, quickly and easily, all while increasing your overall security.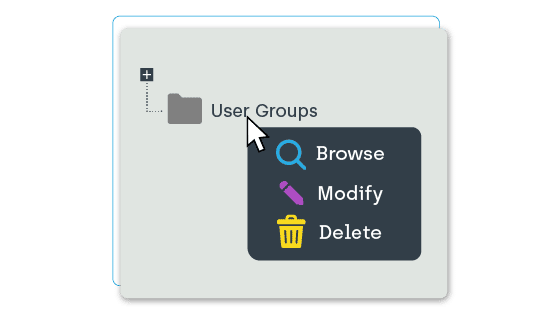 Managing group members
Adding or removing members to and from a group based on rules has never been easier. Privilege Manager enables techs to manage group membership at will. They can also provide temporary, specific privileges that allow users to complete certain tasks, while not giving the user unlimited rights.
Creating groups
Group creation can be done in a snap by using predefined rules. These rules ensure each member has the correct permissions for what they need and when they need it. Privilege Manager provides enhanced flexibility in almost any environment.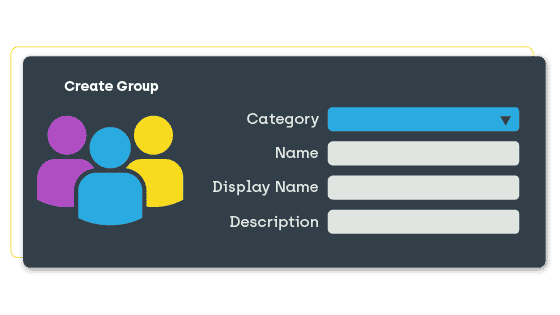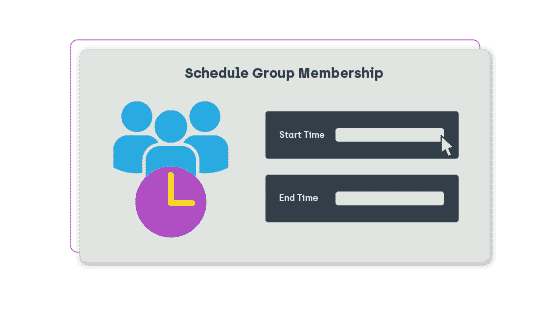 Scheduling group membership
With Privilege Manager, group membership can be automatically scheduled. Allowing users to join a group membership for a specific amount of time allows a user to accomplish the task they need to within a pre-determined time frame. Then that particular user can be automatically removed from that group, maintaining the integrity of the environment's security.
Reporting
With Privilege Manager's reporting capabilities, you will have full visibility into exactly which employees and devices have certain types of permissions. Reports also provide data on users who have requested passwords. Beyond our preset reports, custom reporting allows you to create reports that slice and dice the data as you see fit.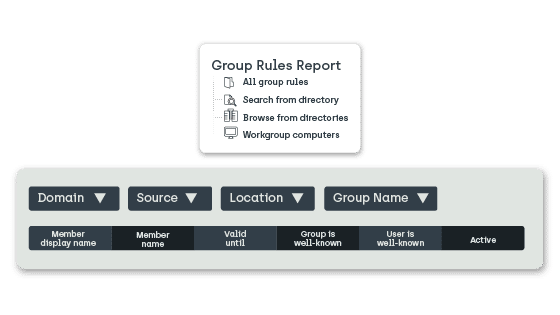 Group rules reporting
Easily look in a single list or search to see which group management rules have been created in Privilege Manager. Also see which group rules have been applied to specific groups.
User rules reports
Know which user rules have been created in Privilege Manager. See all user rules in a single list, search user rules for specific devices, or see user rules applied to a specific organization group.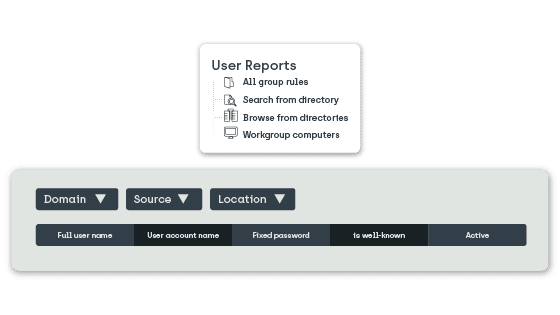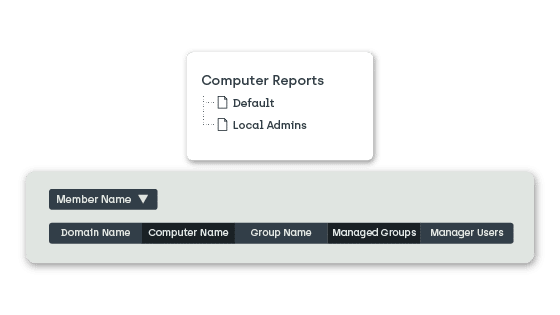 Computer reports
Quickly see which devices have the Privilege Manager client installed. This will also show the local groups and local users on the specific computer even if Privilege Manager is not actively managing the groups or users.
Temporary user IDs
Increase security by seeing which users can use temporary user IDs. Also discover how often the Temporary User ID has been used and quickly see what the reason for the request was for.
Password reporting
Add another layer of protection by gaining insight into which users have requested passwords for specific devices. Reports detail the dates, times, and frequency of password requests.
Ready to get started?
Contact us today to get a customized quote for any of our endpoint manager software solutions!