Endpoint Insights
Do You Need More from Microsoft Intune?
Microsoft Intune is part of Microsoft 365. From the Cloud, Microsoft Intune allows you to control access to corporate information, as well as, manage the computers and smartphones in your environment. As more and more companies are moving away from on-premises to the Cloud, Microsoft Intune's popularity is increasing.
Our customers, however, tell us that they would like to see more from Microsoft Intune when it comes to managing their computers and smartphones. Do you have similar needs? If you do then we have great news for you. Our new warranty API works with Microsoft Intune!
Through Microsoft Intune you can now obtain warranty details for computers from all major manufacturers such as Dell, HP, Lenovo and Microsoft. This also includes all Apple devices (iPhones, iPads, Macs and even iPods). Android devices such as Samsung and Google are also fully supported. We are currently working hard to expand the list of supported mobile devices. What devices do you have? Tell us!
Stop by our booth #2113 at Microsoft Ignite this week to see the latest addition to the Enhansoft family of products.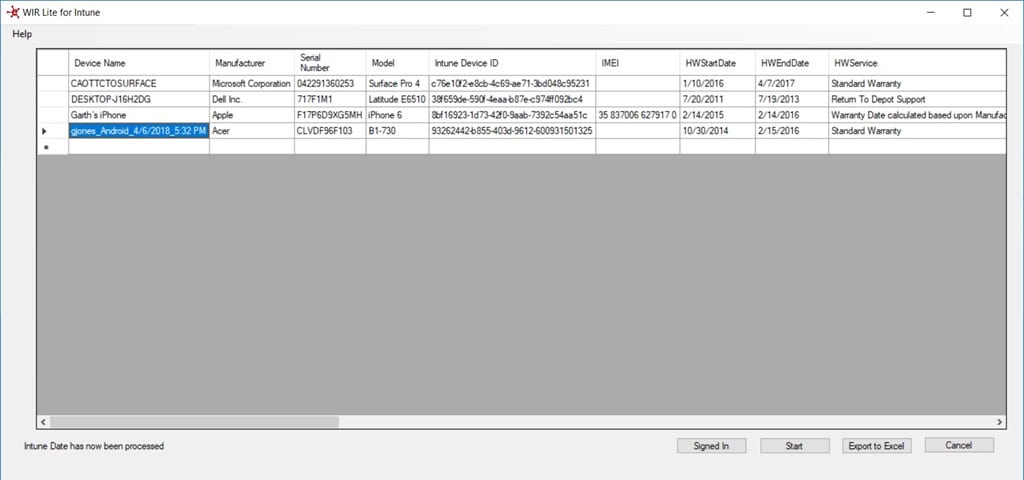 What are Your Microsoft Intune Challenges?
Talk directly to our Intune team at Microsoft Ignite. Let us know if it's helpful to have a complete list of computers and devices identifying each one's operating system such as iOS for Apple devices, Windows 10 for laptops and Android for Android smartphones. Also tell us if it's useful to know the age and warranty status of each computer and device.
In the not too distant future we would also like to report on more mobile device details, so tell us what you want to see in a dashboard or report about mobile device management. Let us know what inventory and compliance details are a must.
Your input is invaluable as it will have a direct impact on shaping the future of what Enhansoft will create for Microsoft Intune!
Can't make it to Microsoft Ignite? Don't worry because you can still talk to our team after the conference. Simply contact them via our info@recastsoftware.com email address. Let them know about your needs and they'll be able to show you what we are working on now.
Stop struggling to make comprehensive Microsoft Intune reports. We can help!
Do you also work with Microsoft System Center Configuration Manager (SCCM)? Do you need to know the age or warranty details of a computer or mobile device? We can help with that too! Stop by our booth #2113 at Microsoft Ignite and ask us about Warranty Information Reporting!