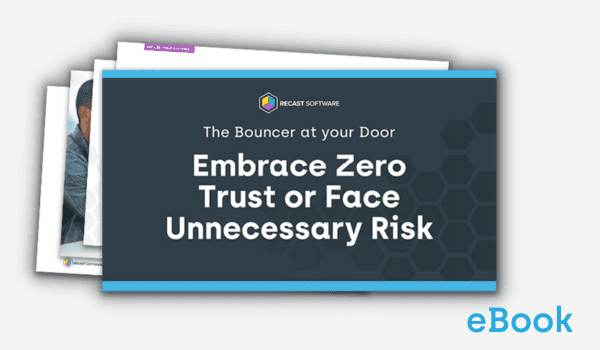 Peer into the risks of excessive admin rights and the necessary steps to effectively harden environments. 
Gain access to vital zero trust standards and better understand their benefits. 
At its core, zero trust is a security strategy that requires verification of all users and entities before granting access. Think of it as a virtual bouncer for your company's resources. In a time of constantly evolving cyber threats, organizations must work to protect their resources and data. Zero trust is a security concept that is quickly becoming a necessity for all organizations looking to protect their assets and data. 
Download and read "Embrace Zero Trust or Face Unnecessary Risk" to review the risks through the lens of historic breaches and then learn about the core zero trust policies you need to embrace today.
Download the eBook:
Embrace Zero Trust or Face Unnecessary Risk
By submitting this form, you understand that Recast Software may process your data as described in the Recast Software Privacy Policy.
Ready to get started?
Contact us today to get a customized quote for any of our endpoint manager software solutions!