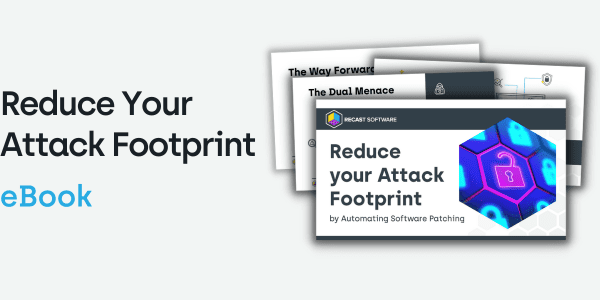 Gain a better understanding of common third-party patching tripping points
Security Officers and IT Administrators manage IT environments that must provide a smooth user experience for employees regardless of their location, while also maintaining an environment hardened against sophisticated threats. In 2021, software vulnerabilities became the leading cause of the costliest breaches, outpacing phishing for the first time. Organizations need to quickly update third-party software to improve their cybersecurity position and reduce risk.
Download and read "Reduce your Attack Footprint by Automating Software Patching" to better understand common 3rd party patching tripping points for companies, as well as best practices within the patching space.
Access the Reduce Your Attack Footprint eBook
By submitting this form, you understand that Recast Software may process your data as described in the Recast Software Privacy Policy.
Ready to get started?
Contact us today to get a customized quote for any of our endpoint manager software solutions!