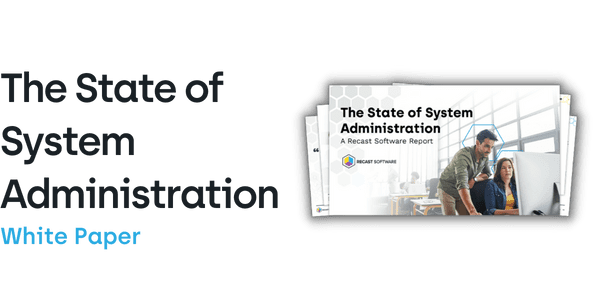 Within the ever-changing technological landscape, IT teams are constantly looking for ways to harden environments, create internal efficiencies, and eliminate manual work. Managing endpoints has evolved rapidly due to both innovations and the COVID-19 pandemic.
Operating amidst this change, Recast Software surveyed 500 system administrators across multiple industries around the globe in order to get a deeper understanding of the state of the SysAdmin field. In this report, you will gain access to endpoint management data and insights including:
How satisfied are system administrators with their jobs and what factors decrease or increase that rating?
What are the trends in endpoint management such as the future state of co-managed and pure cloud environments?
Which software titles do IT teams find most valuable?
How are admin rights managed today across organizational endpoint tiers?
What is the current state of zero trust implementation and what plans are in motion to improve security within environments?
And much more!
Download the report to learn more!
Complete the form below to access the report.
By submitting this form, you understand that Recast Software may process your data as described in the Recast Software Privacy Policy.
Ready to get started?
Contact us today to get a customized quote for any of our endpoint manager software solutions!