PowerShell Inventory Reports
Free System Center Configuration Manager (SCCM) giveaway is the PowerShell Inventory Report Set.
Why should you care about different PowerShell versions in 2019? There are many reasons, but the most important one involves SCCM current branch's new feature, CMPivot. Why, you ask? Several CMPivot features only work when PowerShell 5.0 or later is installed on a computer, so I updated my PowerShell inventory reports to list all of the computers that need to be upgraded to PowerShell 5.0. This report set is free all month-long!

PowerShell HW Inventory Method
About five years ago, a good friend of mine, Sherry Kissinger, created a SCCM hardware (HW) inventory method which provided a complete listing of all the PowerShell (PoSH) versions in your environment. At the same time, I created some PowerShell inventory reports to go along with it.
Sherry's method was originally created with System Center 2012 Configuration Manager (SCCM 2012) and System Center Configuration Manager 2007 (SCCM 2007) in mind. Fast forward to 2019 and SCCM current branch! Although I didn't doubt that this HW inventory method would also work in SCCM current branch, I wanted to confirm it. Indeed, it worked flawlessly! In fact, I tested it with the latest current branch version, SCCM 1902, and while I was at it I also refreshed my accompanying report set.
This free report set now follows Enhansoft Reporting's current style guide, and I also added collection prompts to help you filter the results. Since Sherry's original blog post about her PowerShell HW inventory method doesn't exist anymore, I included the configuration.mof edit and the client setting mof (SMS_def.mof) within the download. The setup itself will take care of configuring everything for you, so you don't have to worry about it! Now, everything you need is at your fingertips.
If you like these reports, or more to the point, if you love the details that are collected by the mof edits, please give a shout out to Sherry and say thank you to her for all of her hard work!
PowerShell Inventory Reports
This report set inventories three main items: PowerShell version, PowerShell runtime version, and compatible versions of PowerShell.
If you would like to learn more about the different versions of PowerShell, please see this PowerShell Wikipedia page.
Below are screenshots of the three reports in this set. They drill through from top to bottom.
PowerShell Dashboard
This dashboard quickly shows you the total number of each installed version of PowerShell and PowerShell Runtime for a selected collection. You can choose to review all or only a selected segment of your computers depending on the chosen collection. This report drills through to List of PCs by PowerShell Version.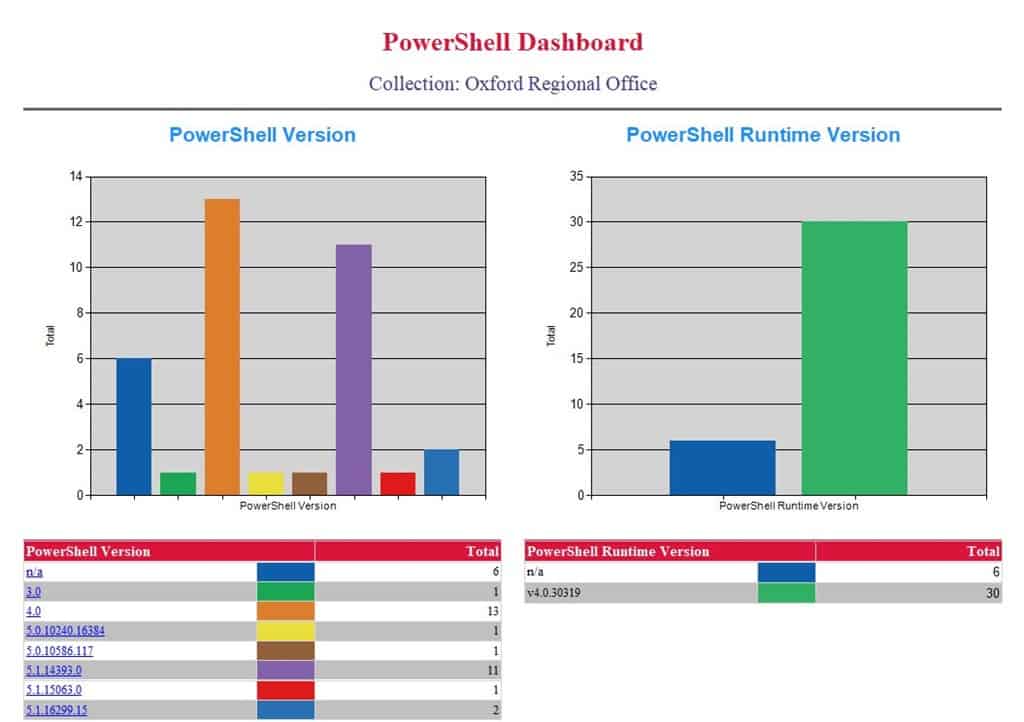 List of PCs by PowerShell Version
This report lists what computers have a specific PowerShell version installed. You choose the version and the collection in the prompts. From this report you can drill through to PowerShell Computer Details.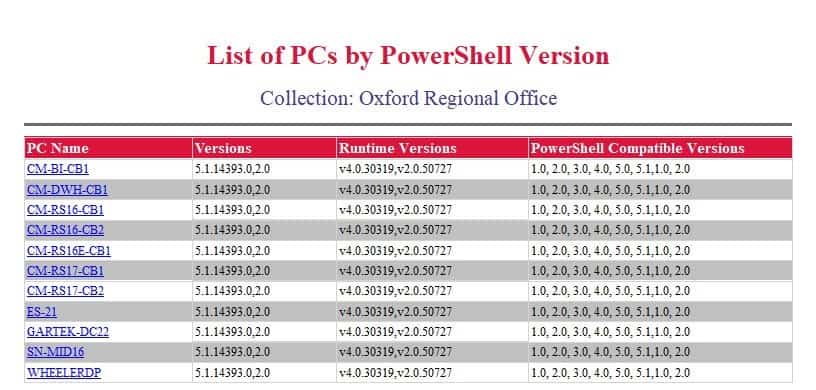 PowerShell Computer Details
This detailed report displays all of the PowerShell and runtime versions installed on a particular computer. It also tells you the backwards compatible version of each PowerShell version installed on the computer.

Enhansoft Reporting – PowerShell Inventory Reports
The PowerShell Inventory Report Set reports are found within Enhansoft Reporting's Software Inventory category. This category of dashboards and reports will provide you with details about your software inventory in order for you to understand it better.
Would you find it useful to know what PowerShell versions exist in your environment? Then get the PowerShell Inventory Report Set NOW!

Are you looking for another SCCM report? Do you find that SCCM reporting is difficult? SCCM reporting shouldn't be hard and with Enhansoft Reporting's 150+ SCCM reports, sorted into 26 different categories, we make it easy for you!
We can't possibly list all of the SCCM reports found in Enhansoft Reporting, but here are the 26 categories:

Still not sure that we have the right SCCM report for you? Just ask and we will be more than happy to help you out! Send a note to TechTalk@enhansoft.com.
All of our free SCCM reports have the Role-Based Administration (RBA) feature enabled. This means that if you are using Microsoft System Center 2012 R2 Configuration Manager or above, these reports will work with all RBA settings.
Do you know of another community inventory item that is in bad need of reports? Please feel free to touch base with me @GarthMJ or drop us a line on Facebook or Twitter and we will see what I can do about it!
See how Right Click Tools are changing the way systems are managed.
Immediately boost productivity with our limited, free to use, Community Edition.
Get started with Right Click Tools today: