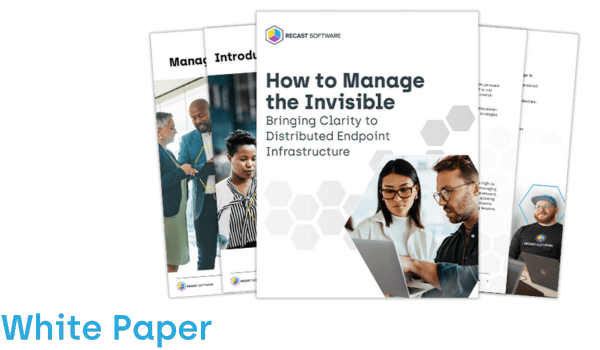 Bring Clarity to Your Distributed Endpoint Infrastructure
The proliferation of endpoints within organizations is not just a trend but a reality of modern business. With employees connecting from every corner of the globe, the challenges have never been greater or more complex.
How do you track, secure, and optimize these myriad devices, each potentially with its own operating system, functions, and vulnerabilities?
How do you safeguard your network when the threats are evolving as rapidly as the technology itself?
This white paper, "How to Manage the Invisible: Bringing Clarity to Distributed Endpoint Infrastructure," is your essential guide to navigating these uncharted waters. Whether you are an experienced SysAdmin, a security expert, or a concerned executive, this white paper equips you with the knowledge and tools to manage the invisible, ensuring a more robust, efficient, and secure digital environment for your organization.
Complete the form below to access the report.
By submitting this form, you understand that Recast Software may process your data as described in the Recast Software Privacy Policy.
Ready to get started?
Contact us today to get a customized quote for any of our endpoint manager software solutions!