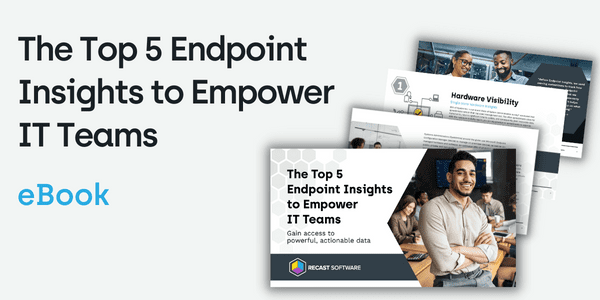 Gain access to powerful, actionable data
Microsoft Configuration Manager (ConfigMgr) leaves a few vital blind spots for System Administrators (SysAdmins). Imagine if you could add this novel data with a solution that merges directly into your ConfigMgr platform.
This eBook reveals the top 5 data points and dashboards in Endpoint Insights used to solidify environmental awareness and management. These insights include:
Novel hardware data
Warranty status dashboard
User-installed 3rd party software data
Access the Top 5 Endpoint Insights to Empower IT Teams eBook
By submitting this form, you understand that Recast Software may process your data as described in the Recast Software Privacy Policy.
Ready to get started?
Contact us today to get a customized quote for any of our endpoint manager software solutions!