Intune
How to Upgrade Windows 10 Devices to Windows 11 with Intune 
How to Upgrade Windows 10 Devices to Windows 11 with Intune
I'm always fascinated by the stories my colleagues tell about the times they upgraded operating systems in their organizations. Almost universally, it didn't sound like a pleasant experience. Thankfully, today we are fortunate enough to be able to leverage Intune to assist us in upgrading devices from Windows 10 to Windows 11, with a few configurations. 
Why Upgrade? 
But why should companies consider upgrading their operating systems when the one currently in place works just fine? That might be true at this moment, however, there are benefits to upgrading operating systems. Here are a few: 
Security – When you are running on outdated operating systems, you are leaving yourself open to system vulnerabilities, which can lead to security breaches.
Performance – Upgrading to the latest software could help improve performance and speed, while adding stability to your devices.
Compatibility – There are some applications that may require your device to be using a certain operating system to perform correctly. Avoiding OS upgrades could disrupt workflow and productivity if not addressed.
Compliance – If your organization needs to follow certain guidelines or standards for device operating systems, you'll need to ensure you comply with their requirements. 
How to Upgrade from Windows 10 to Windows 11 using Intune 
Convinced? Perfect. Let us roll out Windows 11 then. Well before we can do that let us make sure we meet the following requirements for Windows 11 upgrade with Intune.
Prerequisites for Windows 11 Upgrade with Intune 
You need the following licenses to leverage Intune's Feature updates for Windows 10 and later:
Windows 10/11 Enterprise E3 or E5 (included in Microsoft 365 F3, E3, or E5)
Windows 10/11 Education A3 or A5 (included in Microsoft 365 A3 or A5)
Windows Virtual Desktop Access E3 or E5
Microsoft 365 Business Premium
Feature updates are supported for the following Windows 10/11 editions:
Pro
Enterprise
Education
Pro for Workstations
Device Specification requirements for upgrading to Windows 11:
Processor: 1 GHz or faster with 2 or more cores on a suitable 64-bit processor
Memory: 4GB RAM
Storage: 64GB or more
System Firmware: UEFI, Secure Boot compatible
TPM: Trusted Platform Module (TPM) version 2.0
You must also have the following in place for devices:
Be running a version of Windows 10 that is still supported.
Be enrolled with Intune MDM and Hybrid AD Joined or Entra AD Joined.
Have Telemetry on and at a minimum have it set to required.
Set Microsoft Account Sign-in Assistance (wildsvc) to run. By default, it's set to Manual (Trigger start), allows to run when needed.
Okay, now that our bases are covered, let us go ahead and upgrade! 
How to Upgrade: Step-by-Step
Login to Microsoft Intune Admin Center (https://intune.microsoft.com) 
In the Microsoft Intune Admin Center, select "Devices" > "Feature updates for Windows 10 and later > "Create Profile". 
Create a new Windows Update Ring specifically for the Windows 11 upgrade, assign a name to help easily identify the feature update deployment, and then give it a description to help give the policy some context. Under the Feature deployment settings, set the version of windows you want to deploy next to Feature update to deploy. Once your option is selected, next select the Rollout options to manage when you want this update available. 
Assign the Windows Feature Update Ring to the targeted Windows 10 devices that you want to upgrade. I created a static group named 'US IT Users' to easily scope out a test group. I recommend starting off with a pilot group to help you navigate this change and get feedback to improve the rollout to your broader organization.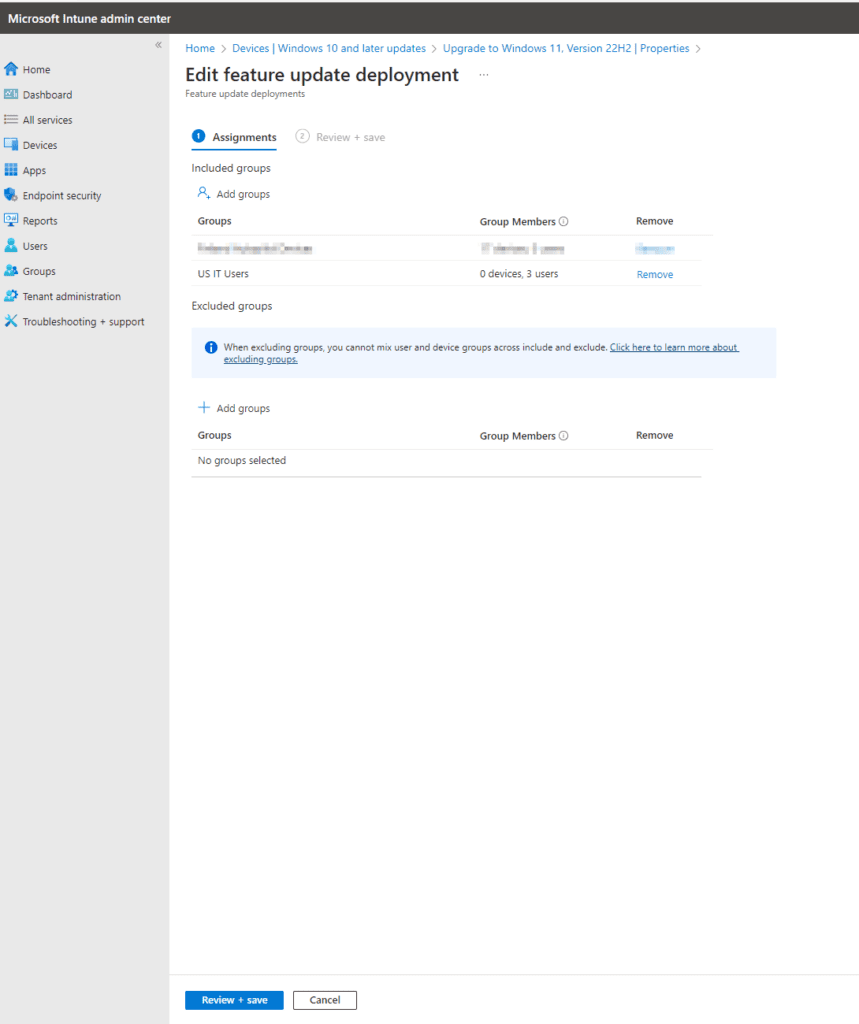 Review your assignments and policy. Once it looks accurate, go ahead and create it. 
Testing the Policy
Now that we have set that policy, let us try it. Below I will highlight a user from that group that was on Windows 10, and we will see the experience on how it is when we upgrade it to Windows 11.  
Here is my device running on Windows 10, Version 22H2 (OS Build 19045.3448).
I ran a sync from the company portal and came back to it later to find a Windows 11, version 22H2 update ready to download!  
Here I let the download run and came back to it a little bit later. As we see, we will need a reboot to apply those updates. 
Voilà! After rebooting and allowing the process to complete, we successfully landed on Windows 11, Version 22H2.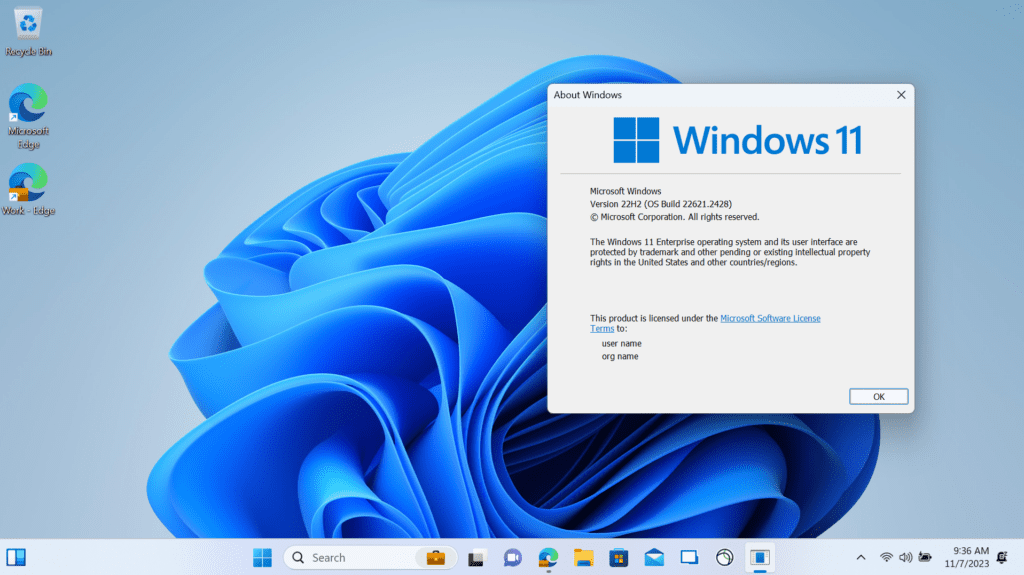 Conclusion 
In conclusion, upgrading your organization's devices to Windows 11 using Microsoft Intune can help enhance security, performance, and compliance. With Intune's features, the once-daunting task of upgrading becomes a streamlined process, allowing for a smoother transition than my peers experienced in the past. 
Starting with a pilot group is a prudent approach, enabling you to gather insights and adjust before a full-scale rollout. Remember, an operating system upgrade isn't just a technical change — it's a strategic move towards a more robust, efficient, and secure infrastructure. 
---
Other Intune Posts