How Can I Install Report Builder?
Why would you want to download Report Builder? I must admit that I don't use the application an awful lot, but I find it particularly useful when I can't access my own laptop. When this happens, instead of using SQL Server Data Tools (SSDT), I can use Report Builder to create a reporting project and make quick edits to an existing report or dashboard from another workstation.
What is Report Builder?
According to Microsoft, "Report Builder provides data visualizations that include charts, maps, sparklines, and data bars that can help produce new insights well beyond what can be achieved with standard tables and charts. Use Report Builder to create reports and shared datasets. Publish report parts, and then browse the Report Part Gallery to reuse existing report parts as building blocks for creating new reports quickly with a "grab and go" experience."
You can read more about Report Builder's features on Microsoft's download page.
How to Install Report Builder
Report Builder is an incredibly helpful tool for making edits to existing documents on the fly. So if you find yourself needing to make changes from other workstations a lot, it's worth taking the time to learn how to install and use Report Builder. There are two ways to use Report Builder software in an SCCM environment.
You can either run it from the SQL Server Reporting Services (SSRS) website OR you can install a Report Builder download from Microsoft's website.
You might be wondering whether or not you can run Report Builder from the SCCM console. Yes, but if you choose to run Report Builder from the SCCM console, you really are using the SSRS website method.
What Is the Difference Between the Two Setups?
The main difference is that the first method doesn't really install Report Builder (RB). Instead RB is run from the SSRS server and nothing actually gets installed on your computer. So there's no "SSRS Report Builder download file" to worry about. This is great for quick edits. This is called a, "Click-to-Run," version of an SQL Report Builder download.
The second method is the traditional Report Builder download and install approach, and that explains why it takes a bit longer to set up.
I prefer installing a Report Builder download onto my laptop rather than running it from the SSRS website. However, use whichever method works best for you. See below for each method's step-by-step instructions.
Run Report Builder from the SSRS Website

Open your browser and go to your SCCM SSRS website. Next, click on the Report Builder icon. If the Report Builder icon is missing, it means that you don't have access to it. Change your permissions and try again, or install it from the Microsoft website.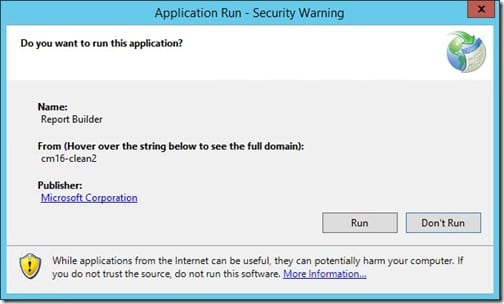 Wait for Report Builder to download and run on your computer.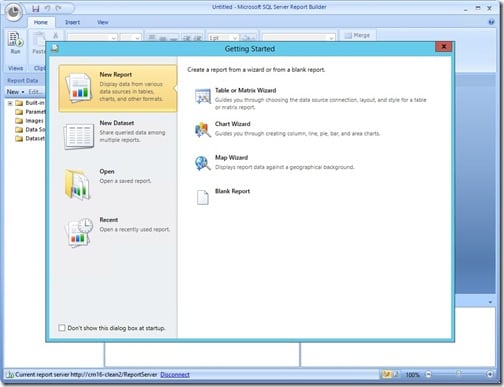 The install is complete when you see the Getting Started interface.
Run Report Builder from the SCCM Console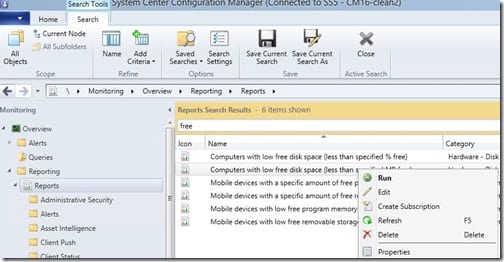 From the SCCM console, select a report and then click on Edit. Next, follow the steps in the previous section starting with the second (Click Run) step.
Install Report Builder from the Microsoft Website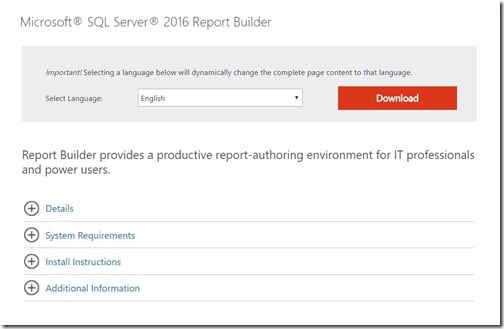 The download link for Microsoft SQL Server 2016 Report Builder is found here. After clicking on the Download button, wait for the MSI to download to your computer.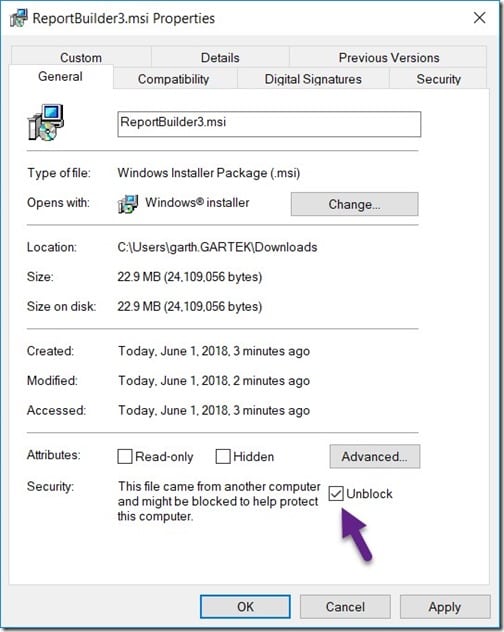 This is an optional step, but I always find that it reduces headaches in the long run. Unblock the MSI before continuing. Open your download folders, locate the MSI (ReportBuilder3.msi), right-click on it and select Properties. Next, select the Unblock checkbox and click OK.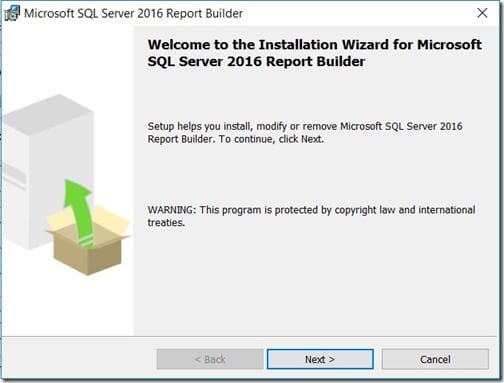 Double-click on the MSI in order to get to the welcome screen. Click on Next to continue.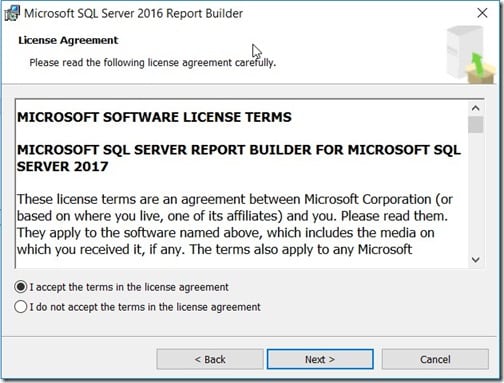 Select, I accept the terms in the license agreement, and then click on Next.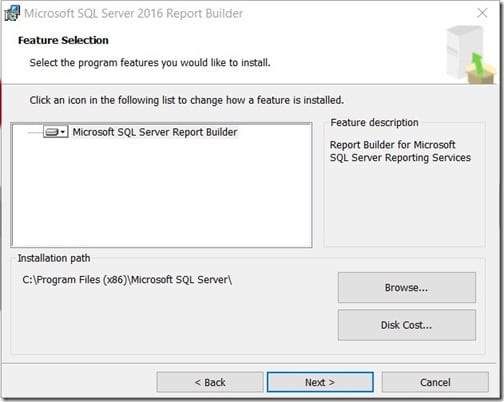 Accept the default path and click on Next.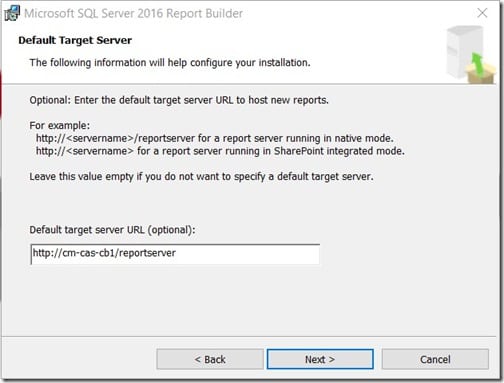 This is another optional step. I recommend filling in the default target server URL because you will want the SSRS ReportServer URL and not the SSRS Reports URL. Click on Next to continue.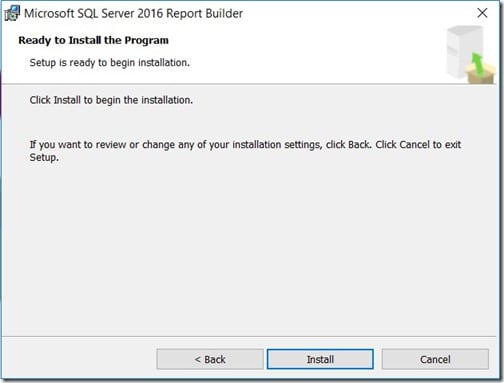 Click Finish to complete the installation.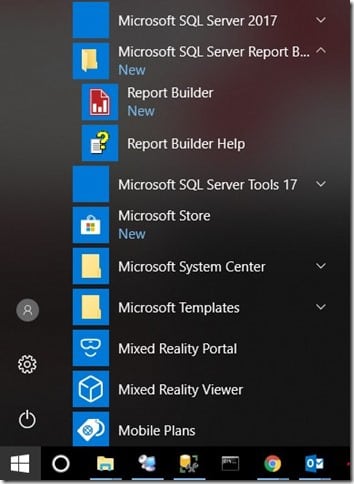 Report Builder is now accessible from the start menu.

I hope you find these instructions helpful. Keep in mind that you will still need to grant permission to allow users to edit reports. If you haven't done this yet, please see the post, How to Start Editing SCCM Reports with Report Builder, for more details.
If you have any questions about how to install Report Builder, please feel free to contact me @GarthMJ.
See how Right Click Tools are changing the way systems are managed.
Immediately boost productivity with our limited, free to use, Community Edition.
Get started with Right Click Tools today: