ConfigMgr Console
Get More Asset Intelligence Details

This is the second post in our "ConfigMgr Problems You Didn't Know You Had" series. This series of deep dives to uncover some of the situations you might unexpectedly find yourself in. The best part is that we're going to tell you how you can fix these problems! Today we'll cover Asset Intelligence.
Asset Intelligence in ConfigMgr
Asset Intelligence (AI) is one of the underused features of Microsoft Configuration Manager (SCCM). While AI has been deprecated, many of the features are still supported and bring great value. This blog post will discuss those features that are still supported and will cover how to set it up.
How to Configure the Asset Intelligence Inventory Classes
Once enabled, this feature allows ConfigMgr's hardware inventory cycle to collect additional asset intelligence details. To give you an idea of its scope, these details range from what software is installed (using the Asset Intelligence catalog) to what USB devices are connected to a computer.
This feature does NOT require the Asset Intelligence Synchronization Point (one of the now unsupported features) to be set up in order to inventory these details. Instead, when needed, the Asset Intelligence Inventory Classes use ConfigMgr's built-in Asset Intelligence catalog.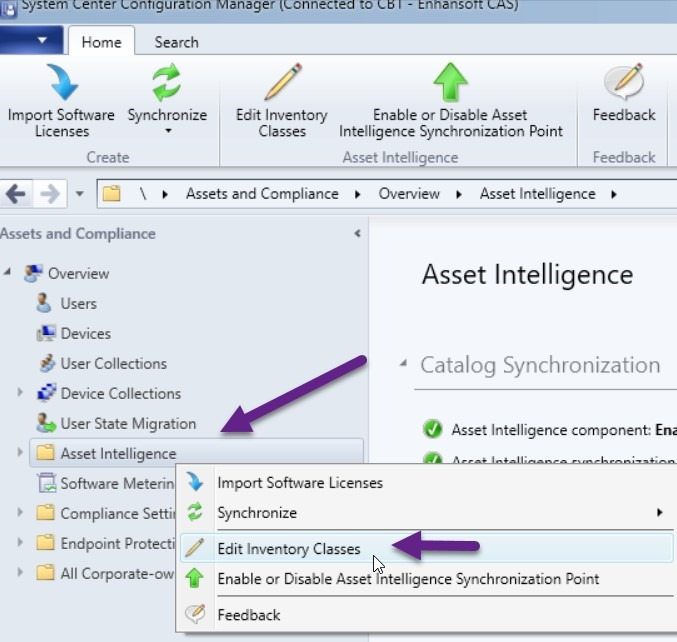 Configure the Asset Intelligence Inventory Classes by right-clicking on the Asset Intelligence node and selecting Edit Inventory Classes.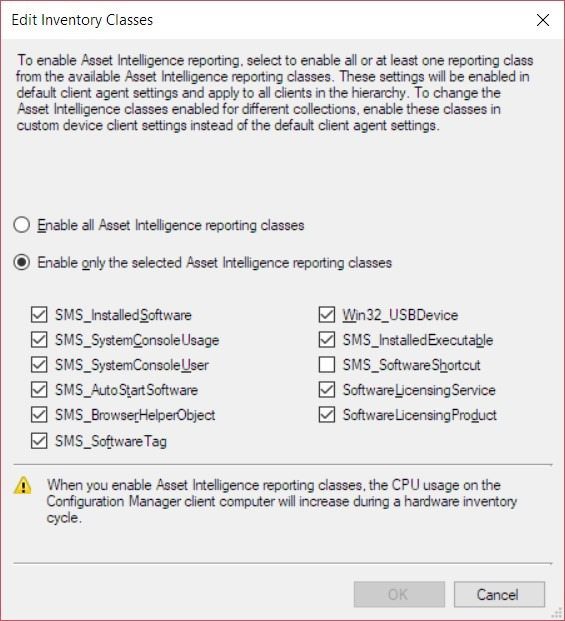 On the Edit Inventory Classes window, I recommend enabling everything except the SMS_SoftwareShortcut. This will allow you to inventory the most useful details without causing any problems.
Remember that in order to collect the SMS_SystemConsoleUsage and SMS_SystemConsoleUser details, you will need to enable the GPO to allow their collection.
See my blog post on this subject.
The reason why I don't enable SMS_SoftwareShortcut is because it is known to cause problems by increasing the inventoried file size beyond what MEMCM / SCCM can handle (50 MB). This issue is particularly true for Citrix servers.
For more information about each AI reporting class, please see the MSDN description of each item.
What Does the Asset Intelligence Catalog Do?
The Asset Intelligence catalog, in its simplest form, allows you to detect software that is installed on each computer. In addition, it normalizes this information and assigns software to a category and family. All of this makes it easier for you to tell what each application does.

If you didn't know what X-Lite was you can tell from the results above that it is a Telephony Application in the Communications family. You can also see how the Asset Intelligence catalog normalizes the product name. Now you don't have to run separate reports for each product sub-version! 
Asset Intelligence Enabled
Now with both the Asset Intelligence Synchronization Point and Asset Intelligence Inventory Classes features enabled, you can get the most out of your SCCM environment. The best part is that there is no additional cost to use either one!
If you have any questions, please feel free to contact me @GarthMJ.
---
More Asset Intelligence Posts
More ConfigMgr Problems You Didn't Know You Had Series Posts