Intune
How Recast Software Powers Your Intune Migration 
How Recast Software Powers Your Intune Migration
Within the current endpoint management ecosystem, Configuration Manager (ConfigMgr) continues to uphold its reputation as a gold standard for Windows device management. This powerful Unified Endpoint Management (UEM) software serves thousands of organizations with complex endpoint architectures built thoughtfully over many years or decades.
Looking to the cloud, Microsoft Intune can deliver a clean and powerful digital experience for organizations and their employees. At Recast Software, we assist our customers on their journey as they manage the convergence of Microsoft UEMs within their environments.
We also continue to evolve our solutions to provide comprehensive support for our customers' endpoint management needs, whether they lie within Configuration Manager, Intune, or a combination of both.
The Diversity of Current Environments
Environments managed by Microsoft's UEMs vary significantly from organization to organization. Some continue to operate entirely on-premises with Configuration Manager while others have moved fully to the cloud with Intune. However, we've witnessed many customers operating in a co-managed state where devices are managed both by Intune and Configuration Manager, bridged by a Cloud Management Gateway. Co-management allows organizations to maintain their established Configuration Manager workflows while gradually introducing and learning Intune.
Recast Software caters to organizations along their endpoint management journey while also innovating and evolving to meet future needs.
Intune Migration: Right Click Tools at the Ready 
Right Click Tools can be deployed effectively in a co-managed state. For those operating on devices not connected to your local network, the Recast Agent Gateway and the Recast Management Server enable the routing of actions over the web, allowing Right Click Tools to operate smoothly on remote devices.
We're dedicated to supporting co-managed environments, those fully on-premises with Configuration Manager and those preparing for a 100% cloud future. 
New Features to Power Up Remote Management
The new release of the Recast Agent Gateway raises the bar further by enabling faster Recast actions on remote devices than over the ConfigMgr "Fast Channel." It allows you to better manage your endpoints both on network and over the internet by providing a secure communications path for agent authentication, authorization, and licensing. Recast actions get directed to agents, which expands agent connectivity to the internet and connects agents with other Recast components.
Additionally, the Agent Gateway expands the abilities of larger organizations to take action at scale, including on remote devices. Previously, the Recast Management Server could become overburdened when attempting to send actions to tens of thousands of agents at once. Now you can set up multiple Agent Gateways to handle traffic between your devices and the Recast Management Server. This removes the soft lock previously faced when running actions at a massive scale. Read more about this new feature here.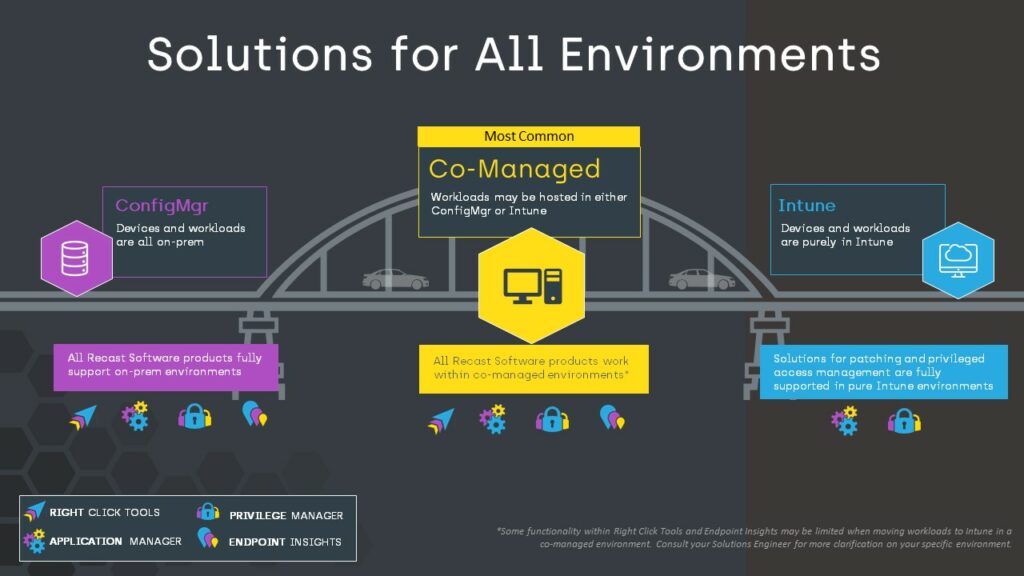 Simplifying Your Cloud Transition
Despite the steady shift toward more cloud-based infrastructure, as observed in our 'State of System Administration' findings, we understand that this is a long journey for many organizations, including many of our current customers. As you navigate toward cloud management, Recast Software is committed to making your transition more manageable. The dynamic nature of IT environments is reflected in our product suite. All our tools, including Right Click Tools, Endpoint Insights, Privilege Manager, and Application Manager, work effectively in a co-managed state. Our suite of tools streamlines your device management, freeing up your SysAdmins to focus on large projects. 
Rest assured, as you evolve toward a co-managed or cloud-based environment, we're anticipating your needs and working tirelessly to create new tools to address the challenges that arise along the way. Recast Software looks forward to equipping you with new, innovative cloud solutions in the coming years.
Reach out to learn more about managing your current environment with Recast Software.