Right Click Tools
Taking Endpoint Management to the Next Level – Introducing Agent Gateways 
Agent Gateways
Taking Endpoint Management to the Next Level
We continuously seek ways to simplify, streamline, and enhance the process of managing your endpoints at scale. With the release of Recast Software Version 5.0, we introduced a valuable new feature – Agent Gateways.
An Agent Gateway is an on-premises component that serves as a bridge between your Recast Management Server (RMS) and your Recast Agents. It allows you to manage your endpoints at scale by providing a secure communications path for agent authentication, authorization, and licensing, directing Recast actions to agents, extending agent connectivity to the internet, and connecting agents with other Recast components.
One of the notable highlights of the Agent Gateway is its ability to connect internet-enabled devices that are not on your local network. This eliminates the need for a Cloud Management Gateway (CMG), allowing you to execute Recast actions against these devices with ease. And if you're worried about the number of agents you can connect, there's great news – you can add as many Agent Gateways as you like, effectively removing any limit to the number of agents that can connect to your Recast Management Server (RMS).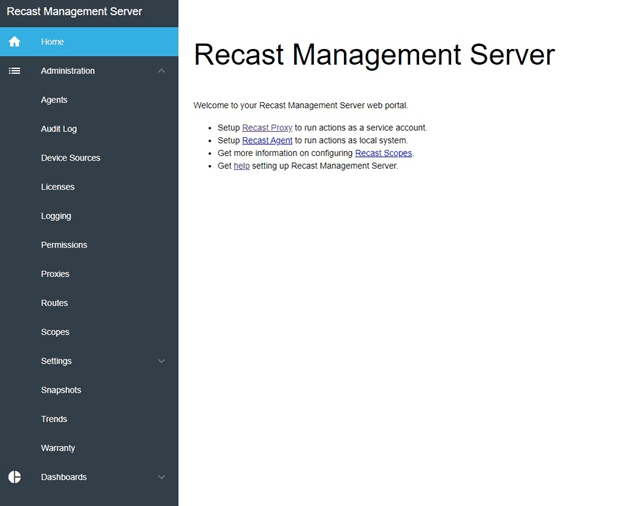 Why Agent Gateways instead of Fast Channel? 
Why would you opt for Agent Gateways over the traditional method of Fast Channel via CMG? Agent Gateways offer faster executions of Right Click Tools actions against internet-connected devices compared to the Fast Channel. This optimization means quicker response times and enhanced productivity for your IT team. 
A Brief History of Off-Premises Endpoint Connectivity
Let's step back to the landscape before Right Click Tools. Traditionally, admins had to set up a CMG to manage devices over the Fast Channel. However, this process was inherently limited by the lack of built-in tools in ConfigMgr, making device management a labor-intensive and inefficient process.
The introduction of Right Click Tools brought some respite. Admins could utilize most of the Right Click Tools on their off-site devices connected over the Fast Channel. However, the process of running these actions over the Fast Channel remained slower than desired.
Moreover, before Version 5.0, all Recast Agents connected directly to the Recast Management Server (RMS). This created a potential bottleneck, especially in environments with a large number of endpoints, leading to decreased system efficiency.
With the release of Recast Version 5.0, you now have the power to connect Recast Agents to an Agent Gateway, which in turn connects back to the RMS. This additional layer enhances performance while also ensuring you can scale up your operations without worrying about limits. You can add multiple Agent Gateways that connect back to the RMS, efficiently eliminating the soft limit of how many agents you can have.
Agent Gateways Unlock Speed and Remove Limits
In summary, the new Agent Gateways feature is a game-changer, offering faster execution, greater flexibility, and the ability to manage an unlimited number of agents. Say goodbye to the former constraints and embrace the next evolution of endpoint management with Recast Software.