Endpoint Insights
How to Improve Device Warranty Information Reporting
How to Improve Device Warranty Information Reporting
Collecting warranty data on all devices in your environment has long pained IT teams. Previously, each Original Equipment Manufacturer (OEM) required teams to either visit their websites or utilize APIs to pull data. Many API methods don't, however, normalize the data into a user-friendly format.
Device Warranty Information Reporting Overview
Device Warranty reports within Endpoint Insights empower organizations with rapid, powerful warranty data across OEMs, device types, and models. The data arrives in clear, actionable charts, which then quickly enables teams to plan accurately. 
Device Warranty Information reports function by collecting computer warranty status details from every computer found within Microsoft Configuration Manager (ConfigMgr). It determines the computer's manufacturer, model, and serial number. It then sends these details to our endpoint management software web service which in turn collects the warranty details from each manufacturer. The results (manufacturer name, model name, warranty details, etc.) are normalized and finally returned to the client. This process only requires a few seconds to complete! 
In-Depth Insight with Device Warranty Information Reports
Device Warranty Information Reports offer a seamless integration with Microsoft Configuration Manager (ConfigMgr) and provides a comprehensive list of over 20 insightful reports. Companies can use these reports to streamline their budget planning, especially in multi-manufacturer environments with varying warranty terms. 
The value of WIRs normalized, user-friendly charts cannot be overstated. The amount of extra work, on your part, of normalizing warranty results would theoretically be manageable if all computers had the exact same entries. But they don't.
Thankfully, you can be assured that the Recast team works with each computer vendor to give you the cleanest and clearest results possible. It doesn't matter if it is Dell, Lenovo, HP, or one of hundreds of other OEMS, Endpoint Insights automatically removes the unnecessary data and gives you the most precise warranty service level and end date information you need about each computer!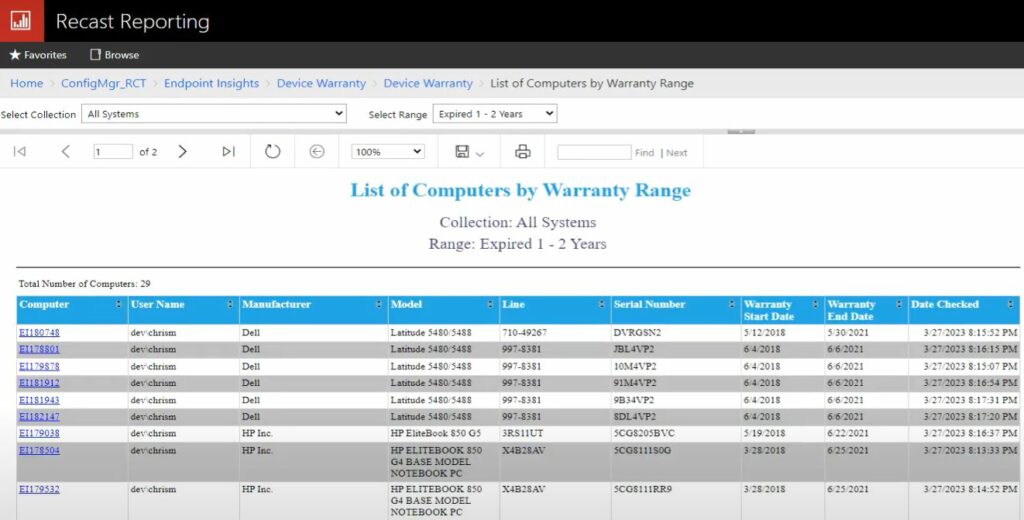 What You Need to Get Started with Device Warranty Information Reporting
Device Warranty Information Reports pulls the Make, BIOS date, Models, and Serial Numbers from your devices.  
What If My Manufacturer Isn't Supported? First, we support hundreds of OEMs, so this is atypical. However, if your devices are managed within Configuration Manager, there's no need to fret if your manufacturer isn't on our supported list. Endpoint Insights is designed to be proactive. When we encounter a new manufacturer through our API, we reach out directly to the vendor to gather the necessary details, ensuring your data is always up-to-date.
We also have a plan B for uber rare instances when warranty data isn't available. The WIR within Endpoint Insights still has you covered. The system defaults to using the BIOS date to give you an approximate service term, so you're never left in the dark.
Privacy Note: Your privacy is paramount to us. No identifying information like IP addresses, usernames, or computer names are ever sent to the Recast API.
The Future of Warranty Reporting
Our commitment to expanding our product capabilities has been relentless. The Device Warranty Information Reporting API is not only compatible with Microsoft Intune, but also features extended support for a broader range of mobile devices. Our development team is tirelessly working to keep expanding our list of supported mobile devices and related reports. 
---
Additional Warranty Reporting Resources