Endpoint Insights
Use Endpoint Insights to Budget with Confidence, Gain Asset Insights, and Stay Ahead of Issues
Endpoint Insights
Budget with Confidence, Gain Asset Insights, and Stay Ahead of Issues
You may be wondering what Endpoint Insights does and how it can help make your life easier. There are hundreds of ways that it can help, but I want to share three significant ones with you: how to budget with confidence, gain asset insights, and stay ahead of issues.
What is Endpoint Insights?
Endpoint Insights captures all those difficult (to impossible) details from your devices that ConfigMgr and other ITSMs do not collect natively, such as device age and warranty, network drives, and what peripherals such as monitors, docking stations and printers are attached. We then display the results in easy-to-interpret ways that help to quickly pinpoint issue areas and gain significant insights into your endpoints.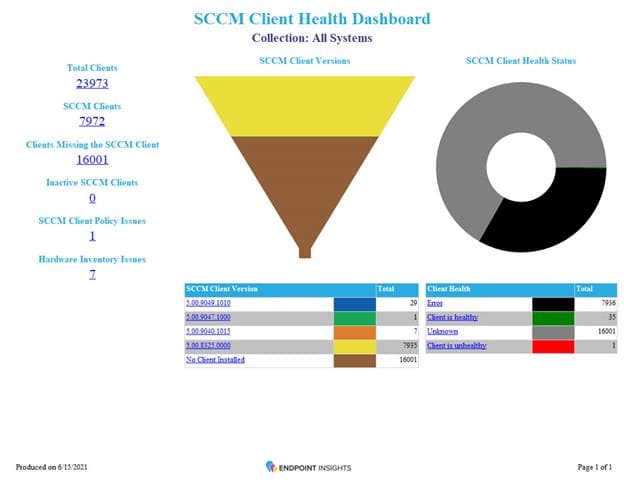 Budget with Confidence
Often as a ConfigMgr Administrator, management comes to you when they want to know the ages of devices when they are budgeting for computer replacements. Sometimes teams are asked to prepare a report every year. It gets tiresome manually looking up device models and trying to determine their ages. Some models exist for years, so how accurate can you be? This is where Endpoint Insights shines. Once deployed you can see the warranty details and the ages of each computer, along with replacement costs. With these details, you can plan which computers need to be replaced in the coming years. As a bonus, you can import the warranty details to your CMDB, such as ServiceNow, or any other ITSM solution that works with ConfigMgr.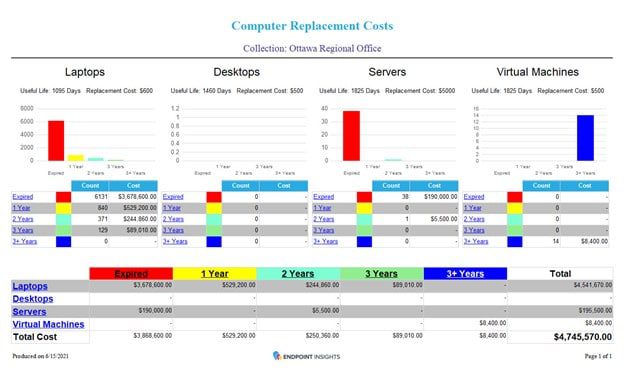 Gain Asset Insights
At one point or another, we've all put in our time working at the service desk. Not all end users are tech savvy, so when you are troubleshooting computer issues or if you want to replace their computer, wouldn't it be beneficial to know what computer they are using? This question has plagued administrators for years. Well, no more, with Endpoint Insights! In addition to computer details, you can see network drives, printers, ODBC settings, and user installed software (i.e., no UAC needed) such as Zoom, Firefox and Grammarly, that you can't get with ConfigMgr. First line service desk technicians can efficiently assist end users because they'll know what computer they are on and they can answer questions like, "My S: drive is missing, help!"
Stay Ahead of Issues
With Endpoint Insights you can see network drives and printer details, so replacing these and other shared assets can be smooth and seamless. There are no more surprises when you have this visibility. Endpoint Insights helps other administrators (and you) by leveraging ConfigMgr to provide security details, MECM health details, and more. Identifying and understanding potential problems is critical to staying ahead of issues.

Want to Learn More?
Endpoint Insights helps you budget with confidence, gain asset insights, and stay ahead of issues. Reach out to our team to take a tour or peruse more product features here.
---
Other Endpoint Insights Posts:
Webinars