Endpoint Insights
How to Find the Replacement Cost for a Collection of Computers
When planning for the retirement or replacement of computers in your environment, there are some important questions that need to be answered before you can move forward. These questions include, but aren't limited to:
Which computers have reached the age where they need to be replaced?
What is the breakdown of laptop to desktop (or even servers) in this group of computers?
Which computers need to be replaced in subsequent years?
Using Endpoint Insights answers these questions quickly.
Computer Replacement Costs: Getting Started
First, you will want to create a collection with the devices in question. I am going to use the Hardware and Firmware Audit dashboard in Right Click Tools to select all the Dell computers in my environment.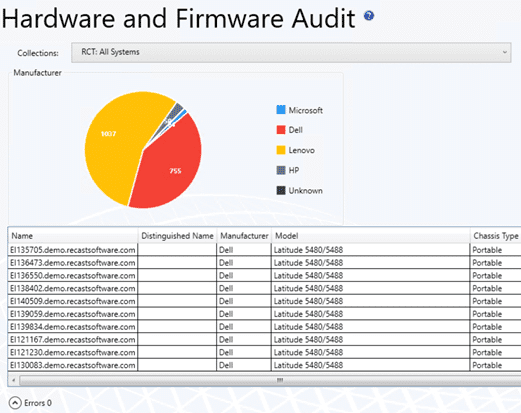 I've selected only the manufacturer, and then when I click on the Dell pie wedge, I can select all the devices and use Right Click Tools to add them to a collection (see below).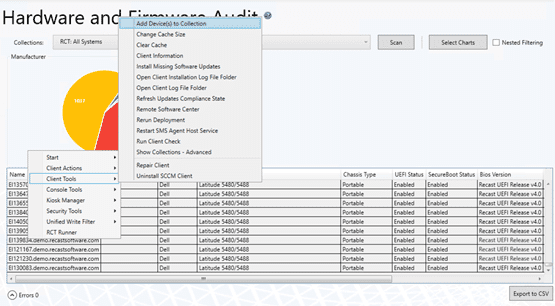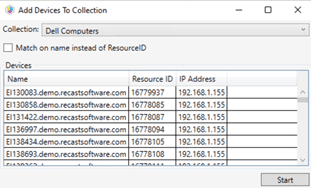 After the collection is created, I head over to Endpoint Insights and check out the Computer Replacement Costs report.

When the report opens, you'll notice that there are some configurable values. These are based on how long you would like to keep a computer in your environment and how much it will cost to replace. Values can be specified separately for a Laptop, Desktop, Server, or Virtual Machine.
After you've updated the times and costs with values that make sense for your organization, select a collection, and click on View Report. You will see a report that shows when your collection of computers will need to be replaced, and how much it's going to cost (based on the time and cost that you entered above).
Computer Replacement Costs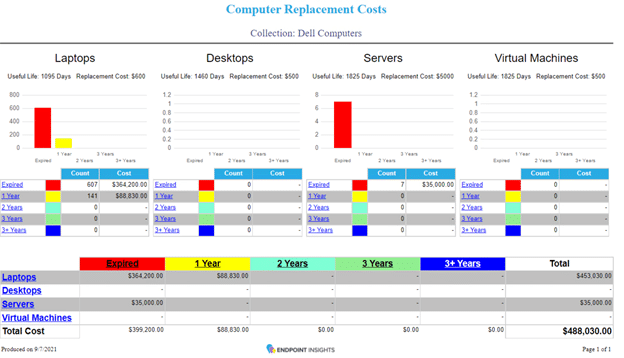 As you can see, the report is showing that we are a bit behind our normal schedule when replacing Dell computers. 607 of the Dell laptops are already beyond our designated useful life and are showing as expired. Additionally, 141 of the laptops will be expiring in the next year. Total cost to replace, based on the cost we selected, will be $364,200.00 (for the expired laptops) and $88,830.00 (for the laptops that are expiring next year) respectively. We also have 7 Dell servers that are beyond our normal expected lifetime and will cost $35,000.00 to replace.
While looking at the report, you can click on any of the underlined links and see which computers make up that group, or you can export the report, or print it, whichever will be more useful for your workflow.
How Does Endpoint Insights Know the Ages of My Devices?
Endpoint Insights adds additional information to the ConfigMgr database such as the warranty start date. It uses this information by communicating with the computer manufacturers to see when a computer warranty originally started. If it can't communicate with the manufacturer for some reason, it can also make some educated guesses about the age of the computer, such as firmware date.
With this additional information and more from Endpoint Insights, you can access the data you need.
Learn more about Endpoint Insights: