Right Click Tools
Compliance Tracking with Trend Dashboards
Many of you know Recast Software for the powerful dashboards in Right Click Tools Enterprise. However, you may be less aware of a very useful feature embedded within these dashboards. Our AD Cleanup, BitLocker Compliance, LAPS (Local Admin Password Solution) Compliance, and Software Updates dashboards all come with the ability to create a Trend Dashboard. These Trend Dashboards provide a historical look at each of the individual dashboards, which assists IT Managers and security teams by providing clear, trackable status updates.
SysAdmins appreciate the feature as it gives management what they need without having to provide access to ConfigMgr directly. The Trend Dashboards all come with weblinks for easy viewing without the viewers having admin rights. Alternatively, IT teams can download the trend graphs and send them to management directly. SysAdmins win by providing the insights demanded by management without needing to hand over full access, and management wins by having clear, easy-to-digest data on endpoints, compliance, and security at their fingertips.
AD Cleanup Trend
Active Directory (AD) can be one of the biggest beasts to tame in the IT world. Throw ConfigMgr into the mix and you can end up with an even bigger mess on your hands. Getting all the appropriate devices into both AD and SCCM used to be a battle that required comparing lists and then joining the device to missing systems. With the AD Cleanup Trend Dashboard, we put all the tools you need to reach peak compliance right in your ConfigMgr console. You get a full view of what percent of your devices are in both Configuration Manager and AD, as well as a historical view of how far your cleanup efforts have come. Drilling down provides more insight into which devices are missing from which system. Ditch the spreadsheets and get your environment in line with the AD Cleanup Trend Dashboard.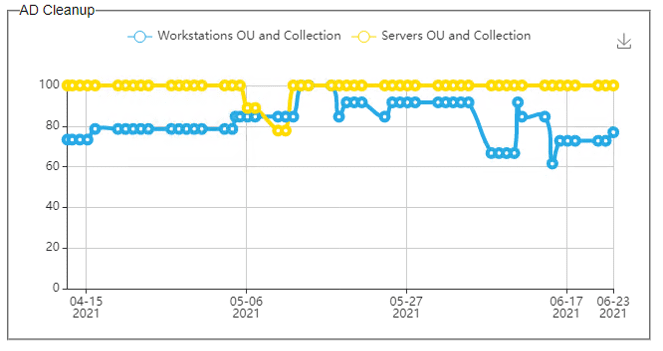 BitLocker Compliance Trend
Companies all dread when end users lose their laptop or have it stolen. The loss is made even worse when the stolen device is not properly encrypted. With the BitLocker Compliance Trend Dashboard, you can get a historical view into your compliance level. Your security team will greatly appreciate the ability to quickly navigate to the Trend Dashboard to get a clear read on how many devices are protected and how many still need to be addressed. The dashboards even enable users to drill into each of the data points to identify specific unencrypted devices.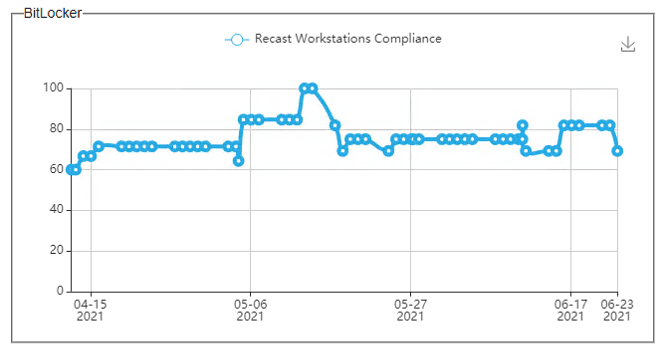 LAPS Compliance Trend
When getting started with Local Admin Password Solution (LAPS), it can be tough to grasp where your company sits. Are all devices getting their password set? How can you tell? The LAPS Compliance Dashboard in Right Click Tools allows companies to gain insight into where they sit now. Then, by setting up a Trend Dashboard for your LAPS compliance, organizations can get a better idea of how far they have come by comparing where they were with where they are today. It helps provide a more complete story of a company's progress from LAPS implementation to the coveted goal of 100% compliance. The LAPS Trend Dashboard is a great reporting feature to share with management to show your progress, or to find out if you have any machines lagging behind so you can remediate those issues.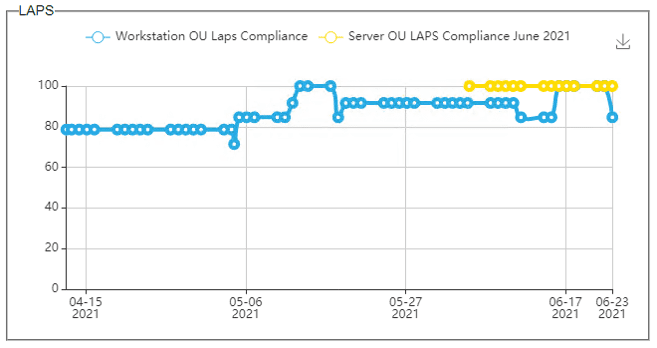 Software Updates Trend
Managing the needs and requests from Security can be a full-time job itself. Staying on top of patching your endpoints poses significant challenges, and then the daily firefighting gets layered on top. The Software Updates Dashboard provides an all-in-one view into the patch compliance level of your endpoints. By setting up a Trend Dashboard for software updates, you can illustrate how quickly patches are applied in your environment and identify any patches that may need an extra push. Again, you can send the Trend Dashboard link to members of your security team so that they can stay up to date on progress without them needing direct access to ConfigMgr.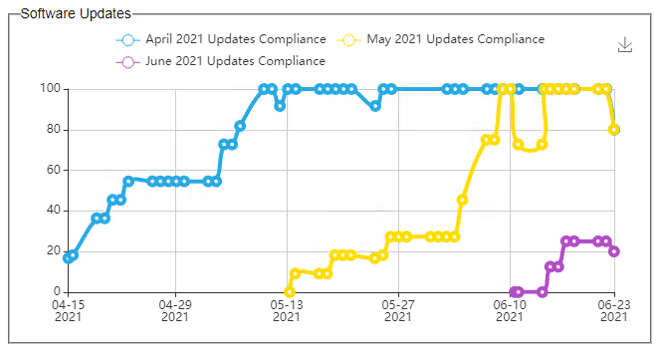 Trend Dashboards Visualize Compliance
To unlock the full potential of your Right Click Tools Enterprise license and make use of these Trend Dashboards, you will need to have a Recast Management Server with Recast Proxy set up. Learn more about getting your Recast Management Server set up here. This resource has a great step-by-step video.