Right Click Tools
Recast Software Launches the Recast Academy
Built by sysadmins for sysadmins to learn our Enterprise platform
Recast Software has launched Recast Academy, a learning platform for Enterprise customers to train on our software's features. Initial courses focus on Right Click Tools Enterprise and enable users to understand the vital features and functionality of our platform. These features empower IT teams to improve their efficiency within MECM / SCCM.
We've launched Recast Academy with three initial courses: Recast Dashboards, Recast Management Server, and Remote Software Center. These three courses form a bedrock of understanding centered around functionality deeply valued by our Enterprise customers. Recast Software's sysadmin team will continue adding to the academy over time. Current courses take users between 15-60 minutes to complete, while also allowing them to go at their own pace. When users reenter the Academy, they can pick up where they left off.
Over time, we will compile courses into specific Learning Paths that end with an exam and product certification. Right Click Tools certification will arrive this spring.
Recast Software launched a beta version of the Academy to a small group of customers in late 2022. Initial feedback has been overwhelmingly positive with 100% of beta participants stating they were satisfied with the course experience. 90% of participants would recommend the Recast Academy to their peers.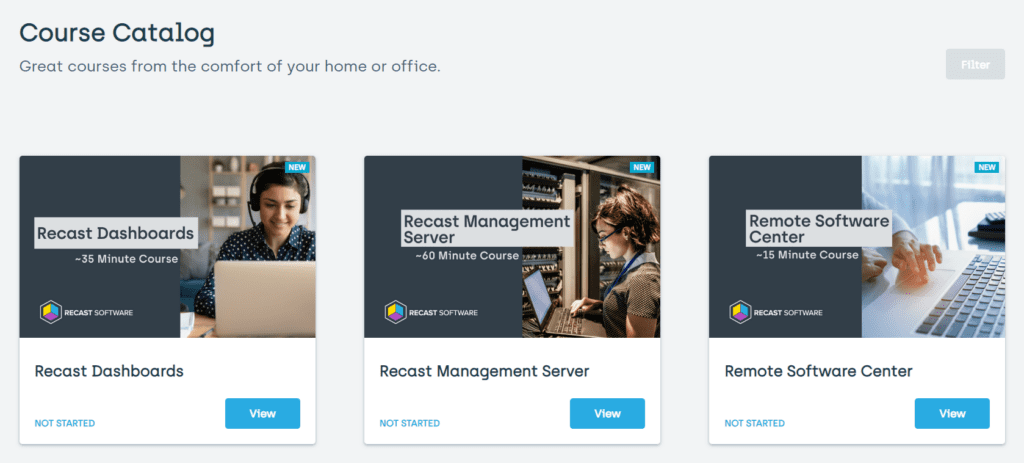 Deepen your Knowledge with Recast Academy
Want to maximize what Right Click Tools provides for your environment? Start you training journey here to ensure you're utilizing Right Click Tools Enterprise fully.
Are you managing your environment with the Community Edition of Right Click Tools? Right Click Tools Enterprise powerfully leverages new capabilities while also enhancing security within your environment. Learn more about Right Click Tools Enterprise here.