Right Click Tools
Recast Version 4.9 Release Strengthens User Experience  
Recast Version 4.9 includes software updates and bug fixes added to our products since the 4.8 version, which went live on October 2021. Ticket submissions by customers enable us to uncover and then prioritize updates and fixes. With this 4.9 update, over 50 tickets were developed, tested, and now released to enhance the user experience with Right Click Tools, Endpoint Insights, and Shift Left for ServiceNow. We value your feedback greatly. Please continue to submit tickets (Resources —> Submit a Ticket) and feature requests, as your input helps keep our products sturdy and dynamic.
Below you will find highlights from the Recast Version 4.9 release. Find the complete 4.9 release notes here.
Recast Version 4.9 Release Highlights
Right Click Tools
Dashboard Performance Improvements
Recast utilizes actionable dashboards throughout the product suite, enabling Right Click Tool actions from within dashboards. With this update, four of our dashboards now offer improved performance and speed — Content Distribution Monitor, BitLocker Compliance, Hardware and Firmware Audit, and LAPS dashboards.
Bug Fixes
Within our suite of dashboards, the Software Update Deployment Status dashboard received the following updates:
Fixes an issue where the Missing Updates by Category pie chart displays extra missing updates.
Fixes an issue where the Device Compliance Status pie chart mistakenly includes installed updates on the results grid.
Fixes an issue where some devices incorrectly show their compliance as 'Unknown'.
To resolve this issue, you must enable two new actions:
ConfigMgrServer > GetRequiredSoftwareUpdates – Retrieves all required software updates that are missing
ConfigMgrServer > GetInstalledSoftwareUpdates – Retrieves all required software updates that are installed
Kiosk Manager, a Right Click Tools feature that makes switching to kiosk mode reliable, remotely actionable, and deployable across device groups, also received an update that enables kiosk profiles to auto-launch Microsoft Edge successfully.
Download Recast Version 4.9 Release
Community users can download the Recast Version 4.9 of Right Click Tools from our website.
Enterprise customers can get the latest version via our Portal.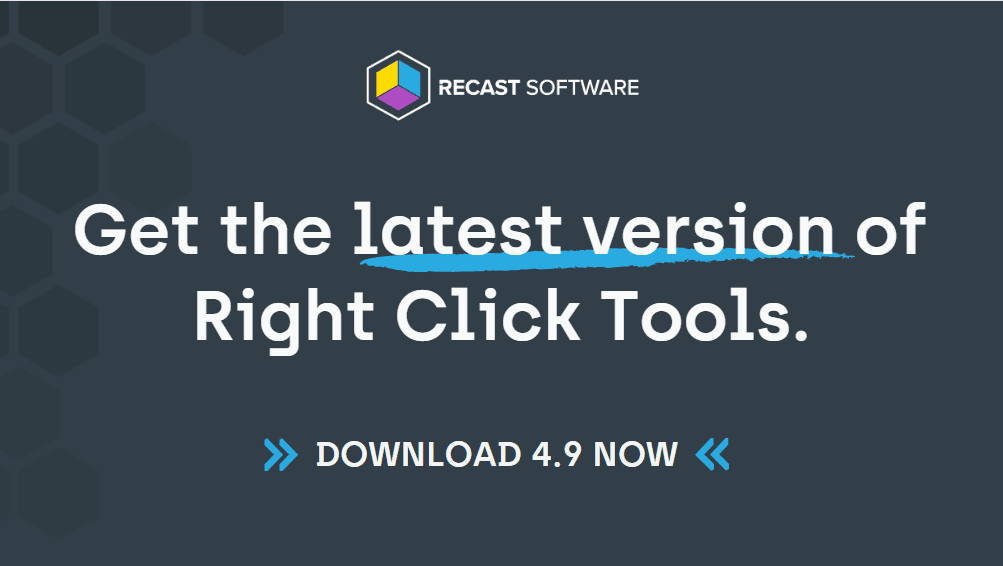 Endpoint Insights
Software Dashboard Improvements
We've added additional viewing and filtering options within the Software Dashboard reports. On the List of Computers by Software report and Computer Software Details report, you can now view and filter by user-installed software, computer-installed software, or both. We also increased the speed and stability of these two reports.
Bug Fixes
The Software Update Health Dashboard report now runs seamlessly from the console, rectifying a glitch in specific instances. Additionally, the Computer Warranty Information, Computer Replacement Costs, and List of Computers by Replacement Category reports now functions well with SQL Server Reporting Services from 2014 and earlier.
Shift Left for ServiceNow
ShiftLeft is a ServiceNow plugin that empowers Help Desk technicians to action more service requests quickly and efficiently, while limiting the scope of access for the techs. With the 4.9 release, Shift Left now supports the San Diego release of ServiceNow.
Conclusion
Product release downloads and information are stored on our website here. If you have yet to experience the added benefits of our Enterprise tools, schedule a demo to tour Enterprise Right Click Tools. Nearly all our Enterprise customers renew annually, a testament to the power of the added features and tools in the Enterprise edition.