Right Click Tools
Right Click Tool Highlight: System Information – Collection Mode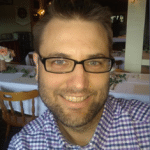 Gary Blok
Published on:
April 2, 2020
Receive notification right in your inbox whenever new content like this is released & sign up for our email list!
We'll send you the latest updates, how-to's, and solutions to empower you at every endpoint.
By signing up you agree to our Privacy Policy.
In a previous post, we talked about one of my favorite tools, System Information. Well, guess what… it gets even better. You can run the tool on an entire collection!
This will give you a nice quick overview of the machines. This view allows customization and adding/removing columns.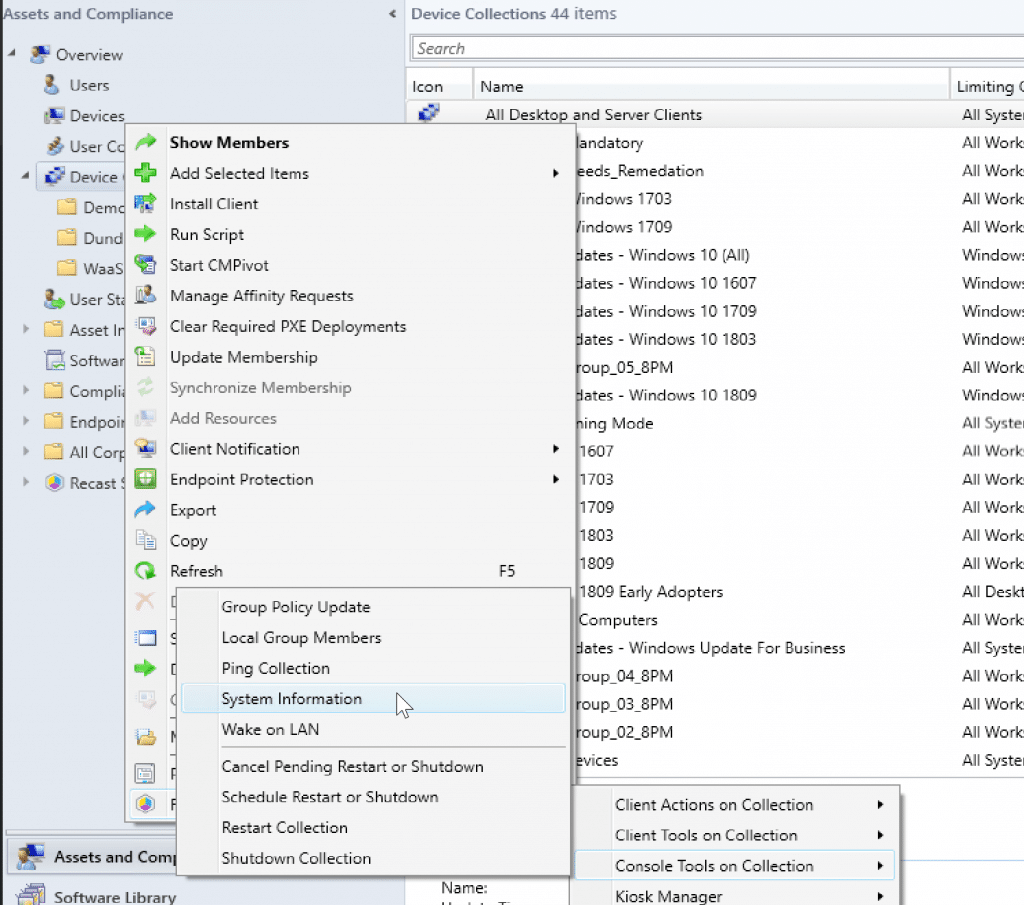 I'd often run the WOL tool on the collection first and give it a couple of minutes before running this tool, but then I'd run this to get a nice overview. As you can see in my image, a few issues stand out right away that I need to spend some time looking into, a couple of which I wasn't actually expecting to see. So perhaps a future post in troubleshooting the CM Client is coming. 🙂
Ways I'd use this report:
Was the machine on?
Was someone logged on to the machine?
Check Cache Size
Check Cache "levels"
Here's a scenario, a new BIOS came out, I tested on my 1 test machine, (successfully), and wanted to test on another machine or two… well.. the old adage was true.. "I don't always test, but when I do, I test in Production". I used to have a collection for Each Model of Machine, and a collection that would list all machines of that model with a down-level version of the BIOS… see how I did it in this old post HERE.
I'd right-click on the collection, find a couple … "volunteers" (Computers On, No User logged On) and use the Rurun Deployment Right Click Tool to trigger the update. I'd use the Right Click Tools "Ping System" to watch it reboot and come back up, then I'd use the System Information Right Click Tool on the device to see if it now had the new version of the BIOS installed.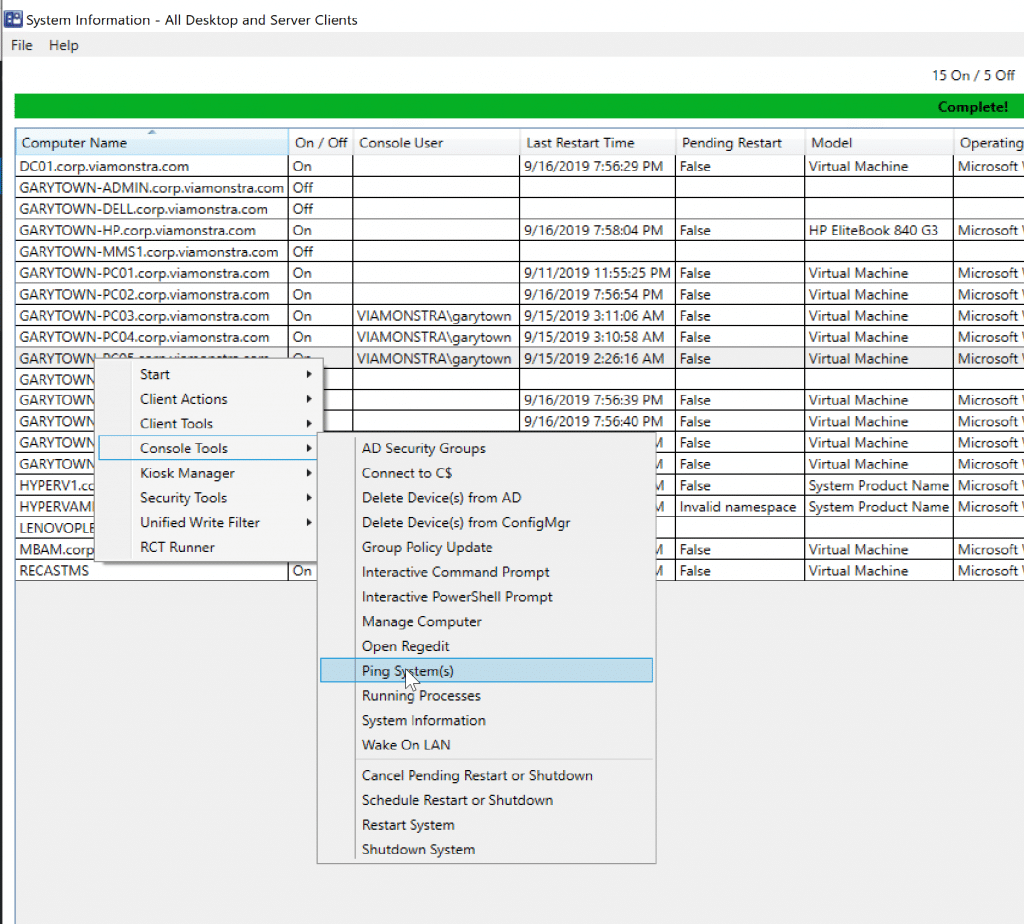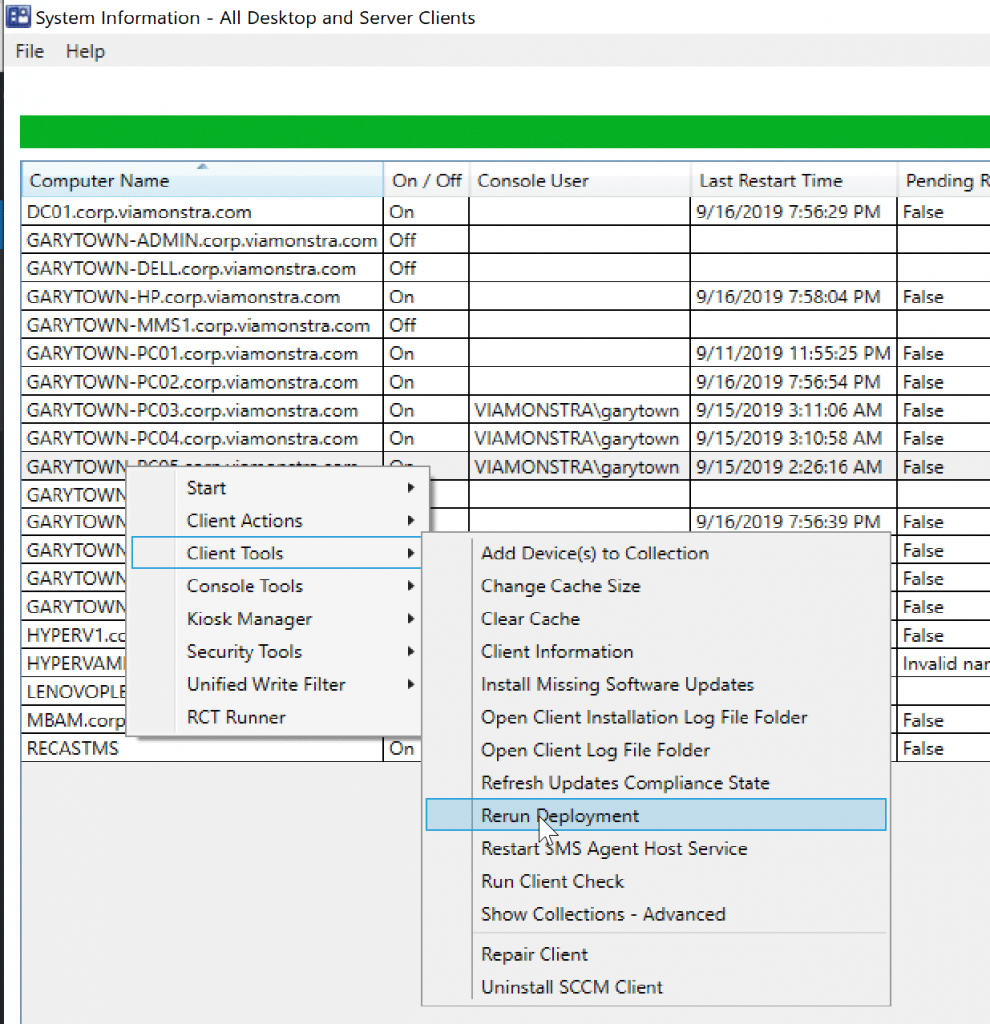 Using a combination of Right Click Tools, I could do several tests on "Pilot / Volunteer" computers with no user impact, all remotely.
I'd also like to see the overall "Cache Health" of random sampling, I'd confirm that machines were getting the right Cache size via Policy, and look for any "odd" things… like an empty cache for example.
The System Information Tool is a great tool to give a collection overview and status of a large number of machines.