Monthly What's New
Recast's Endpoint Management Recap – August 2023
Welcome to Recast's Endpoint Management Recap, August 2023 – by Daniel Engberg
Greetings Everyone,
I hope this message finds you all in good health and high spirits. As for me, August has been quite a ride – welcoming a new addition to the family and savouring some well-deserved paternity leave. However, I'm also eagerly anticipating an exciting fall as I gear up to dive back into action.
The long-awaited feature, Windows 365 Switch, is now in Public Preview. As usual, there's been a steady stream of updates for Intune from Microsoft and the community.
As for ConfigMgr, updates are still trickling in, but their frequency is gradually decreasing. The focus ahead is on cloud-only enabled services.
Looking ahead, our calendar is filled with exciting community events in the coming months, as outlined in the Events section below.
Feel free to reach out if you have any suggestions or topics you'd like to see covered. Until then, take care and talk to you next month!
Best regards,
– Daniel Engberg
Contents – Endpoint Management Recap

Upcoming Events
Check out Recast Software's new SysAdmin Event and Tradeshow page, which compiles noteworthy events for the IT and SysAdmin community taking place around the globe.

During August we've had some cool news, including:
**Windows Autopilot Enhancements: ** The Windows Autopilot service release 2307 introduces a game-changing feature. Now, you can effortlessly remove Autopilot devices in one swift action, bypassing the need to first eliminate the existing Intune device association. This enhancement streamlines device management, making your tasks more efficient.
**Windows 365 Switch Public Preview: ** The much-anticipated Windows 365 switch feature is finally in public preview. This functionality allows you to seamlessly transition between your Windows 11 device and a Windows 365 cloud PC. This enhancement brings flexibility to a new level, enabling a smooth and uninterrupted workflow.
You can find the rest of the updates below.
Products
Microsoft Azure Active Directory (Entra) [What's New Page]
Microsoft ConfigMgr [What's New Page] [Tech Community] [Virtual Hub][MS Q\A][Reddit][Feedback]
Microsoft 365
Microsoft Intune [What's New Page]
Microsoft Windows [What's New Page]
Windows Client
Windows Server
Windows 365
Security Alerts and Info [Microsoft Security Portal – Security Update Guide]
Other

Podcasts / Blog Series / Video Blogs‍
Blog Posts
Intune
ConfigMgr
Windows 11
Windows 365
Cloud Security
Other SysAdmin Info

Recast recently held a webinar on the current security landscape born out of the realities of distributed teams and remote work. The webinar centered around a conversation between Richard Campbell of RunAs Radio (MVP) and Danny Wheeler, the Director of IT at Recast Software. Read the highlights from their conversation shared in our recent blog.
You can also watch a recording of the webinar below:
We also recently held a second webinar, Unleashing the Power of Endpoint Insights. Watch that recording here:
Recast Software released both an eBook and infographic focused on IT security and strategies. Give a look: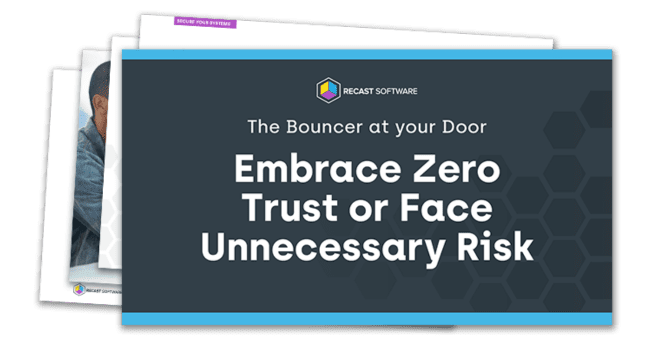 Check out our newest blog posts as well:
Also:
‍Thank you for checking out Recast's Endpoint Management Recap – August 2023. Stay tuned for more helpful content coming your way next month.