Monthly What's New
Recast's Endpoint Management Recap – October 2023
Welcome to Recast's Endpoint Management Recap, October 2023 – by Daniel Engberg
Hello!
I trust this message finds you well. As we approach the end of October, I hope you're soaking up the Halloween spirit.
This month, there has been a lot of talk around Copilot. A particular point of interest for many has been integrating Intune data with Security Copilot.
I've been using AI tools more and more in my life. Tools like ChatGPT have become indispensable in my daily activities, enhancing efficiency and creativity. As for Copilot, I'm waiting for the opportunity to test it out, hopefully soon!
Next month, I'm expecting that we will see quite a lot of news from Microsoft Ignite, so stay tuned until then!
– Daniel Engberg
Contents – Endpoint Management Recap

Upcoming Events
Check out Recast Software's SysAdmin Event and Tradeshow page, which compiles noteworthy events for the IT and SysAdmin community taking place around the globe.

This month, Microsoft announced an enhancement to the Security Copilot. Now, it can seamlessly integrate data from Intune. Dive deeper into this feature with these articles:
Configuration Manager 2309: Key Updates
SQL ODBC Driver Support: Optimized database connectivity with the introduction of this driver.
Scheduled Scripts Execution: Empower admins to automate and schedule script runs.
Azure Logic App Notifications: Direct integration in the CM console enhances event tracking.
Site Maintenance Task: Newly added feature to declutter and maintain data efficiently.
Windows 11 Update Orchestrator Service
OSD for PXE Boot: Improved communication using an initial lookup Management Point (MP).
Bitlocker through ProvisionTS: Escrow recovery keys directly to the Config Manager Database.
Windows 11 Edition Upgrade: Admins can effortlessly upgrade to Windows 11 edition using CM Policy settings.
Windows 11 Upgrade Dashboard: Strategically plan your Windows 11 upgrades using this dashboard.
Cloud Management Gateway Enhancements: New methods to create via both Console and PowerShell, fortified with enhanced security.
Products
Microsoft Entra ID (Azure AD) [What's New Page]
Microsoft ConfigMgr [What's New Page] [Tech Community] [Virtual Hub][MS Q\A][Reddit][Feedback]
Microsoft 365
Microsoft Intune [What's New Page]
Microsoft Windows [What's New Page]
Windows Client
Windows Server
Windows 365
Security Alerts and Info [Microsoft Security Portal – Security Update Guide]
Other

Podcasts / Blog Series / Video Blogs‍
Blog Posts
Intune
ConfigMgr
Windows 11
Windows 365
Cloud Security
Other SysAdmin Info

Recast Software has acquired Liquit, a leader in application management. With the acquisition, Recast Software offers customers a complete application delivery platform, while strengthening the company's position in endpoint and application management. Read the announcement here.
Join us Thursday, November 9th at 10 AM CT to get hands-on insights into Recast Software's Application Manager and an exclusive first look at Liquit's groundbreaking tech. Streamline your app management and up your patching game, all in one go. Sign up for the webinar here.
We recently hosted a Customer Panel titled "Unveiling IT Blind Spots." Our panel of IT experts shared their real-world experiences in managing IT environments and discussed their strategies for reducing blind spots. Watch the recording here or read a recap here.
We also recently hosted Richard Campbell of RunAs Radio (MVP) and Danny Wheeler, the Director of IT at Recast Software to discuss the evolution of IT security over the past 5 years. Read the highlights from their conversation shared in our recent blog or watch the recording here.
Recast Software released both a white paper and eBook focused on common visibility challenges for admins and best practices to tackle them. Give a look: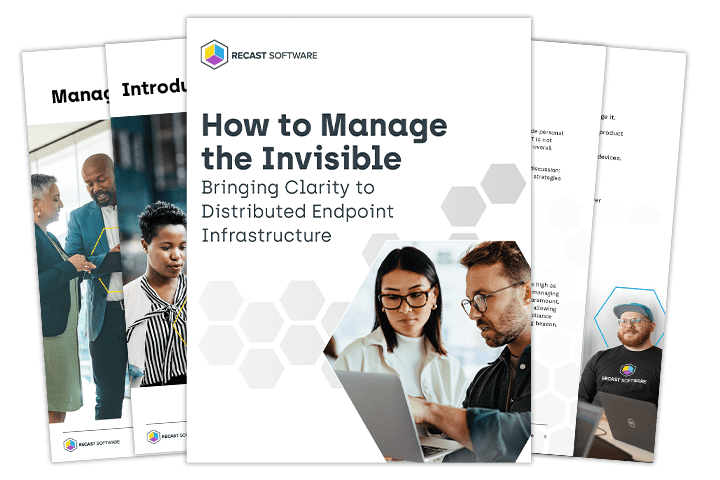 Check out our newest blog posts as well:
Technical Posts
Customer Stories
Also:
‍Thank you for checking out Recast's Endpoint Management Recap – October 2023. Stay tuned for more helpful content coming your way next month.