Monthly What's New
Recast's Endpoint Management Recap – September 2023
Welcome to Recast's Endpoint Management Recap, September 2023 – by Daniel Engberg
Hello!
Welcome to the first days of autumn! It's always an exciting time of change and new beginnings.
This month, we focus on Windows 365, with both Boot and Switch reaching General Availability (GA). It's fantastic to see these developments in Microsoft's cloud offerings. We will go into more detail in the Microsoft product section of this newsletter.
As always, our community never disappoints, delivering valuable content and insights. Thank you to everyone for their contributions!
On the Recast Software front, host of this newsletter, Recast recently acquired Liquit, consolidating the endpoint and application management space. Read more here.
I'm looking forward to reconnecting with you in October! Until then, enjoy the autumn season to the fullest!
– Daniel Engberg
Contents – Endpoint Management Recap

Upcoming Events
Check out Recast Software's new SysAdmin Event and Tradeshow page, which compiles noteworthy events for the IT and SysAdmin community taking place around the globe.

Many organizations are strategically transitioning from Group Policy Objects (GPOs) to Configuration Service Providers (CSPs) for various reasons, including faster login times, improved performance, and advanced monitoring capabilities. This shift represents a significant leap in modern device management.
To assist in this journey, there's valuable content available to help you level up your skills in migrating from GPOs to CSPs:
In addition, Windows 365 has some new updates, with both Boot and Switch now generally available! Windows 365 Boot enables direct boot into Windows 365, and Windows 365 Switch facilitates seamless transitions from Windows 11 to your Windows 365 device.
For more in-depth information, continue reading in the Microsoft product section below.
Products
Microsoft Entra ID (Azure AD) [What's New Page]
Microsoft ConfigMgr [What's New Page] [Tech Community] [Virtual Hub][MS Q\A][Reddit][Feedback]
Microsoft 365
Microsoft Intune [What's New Page]
Microsoft Windows [What's New Page]
Windows Client
Windows Server
Windows 365
Security Alerts and Info [Microsoft Security Portal – Security Update Guide]
Other

Podcasts / Blog Series / Video Blogs‍
Blog Posts
Intune
ConfigMgr
Windows 11
Windows 365
Cloud Security
Other SysAdmin Info

Recast Software has acquired Liquit, a leader in application management. With the acquisition, Recast Software offers customers a complete application delivery platform, while strengthening the company's position in endpoint and application management. Read the announcement here.
Recast is hosting a Customer Panel titled Unveiling IT Blind Spots this Thursday at 1pm CT. Join us and our panel of IT experts who will share their real-world experiences in managing IT environments and discuss their strategies for reducing blind spots. You will discover practical solutions related to using multiple tools from different vendors, uncovering hidden device information, and accessing compliance data. Register here.
We also recently hosted Richard Campbell of RunAs Radio (MVP) and Danny Wheeler, the Director of IT at Recast Software to discuss the evolution of IT security over the past 5 years. Read the highlights from their conversation shared in our recent blog or watch the recording below:
Recast Software released both a white paper and eBook focused on common visibility challenges for admins and best practices to tackle them. Give a look: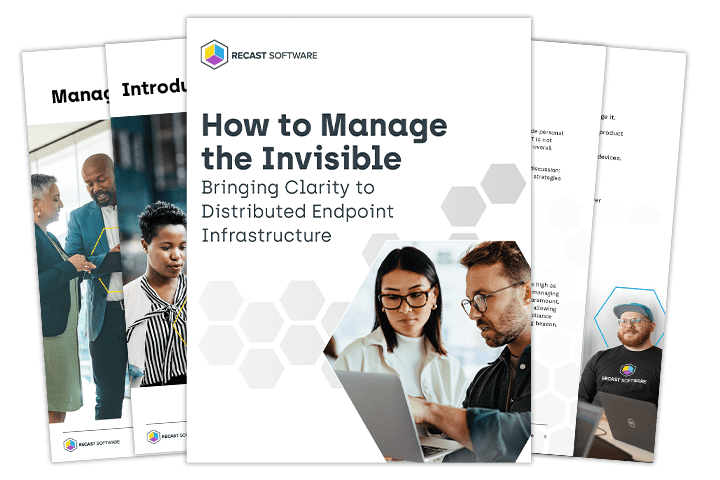 Check out our newest blog posts as well:
Also:
‍Thank you for checking out Recast's Endpoint Management Recap – September 2023. Stay tuned for more helpful content coming your way next month.