Right Click Tools
Uncover and Resolve Security Blind Spots with Right Click Tools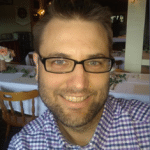 Gary Blok
Published on:
April 23, 2020
Receive notification right in your inbox whenever new content like this is released & sign up for our email list!
We'll send you the latest updates, how-to's, and solutions to empower you at every endpoint.
By signing up you agree to our Privacy Policy.
It's difficult to prevent and fix security issues if you don't know they exist. Right Click Tools help to surface and remediate blind spots that otherwise slip through the cracks. Do you know how many devices in Active Directory are being managed? What about how many devices actually receive the updates they are targeted with? Our dashboards built into Microsoft SCCM surface common weak points like these and are paired with tools to quickly address problems that are discovered. Get a quick tour of the dashboards in this video:
Walkthrough Security Compliance Dashboards – Right Click Tools from Recast Software on Vimeo.
‍
Active Directory Cleanup
Results show devices appearing in SCCM, AD, or both. Inactive devices can be removed from AD or SCCM directly.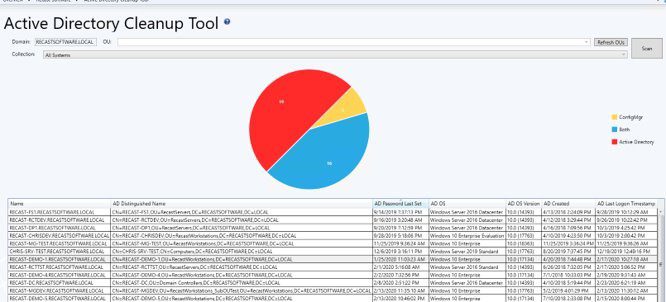 ‍
BitLocker Compliance
Looks at all devices that are encrypted through a report. Non-compliant devices can be remediated.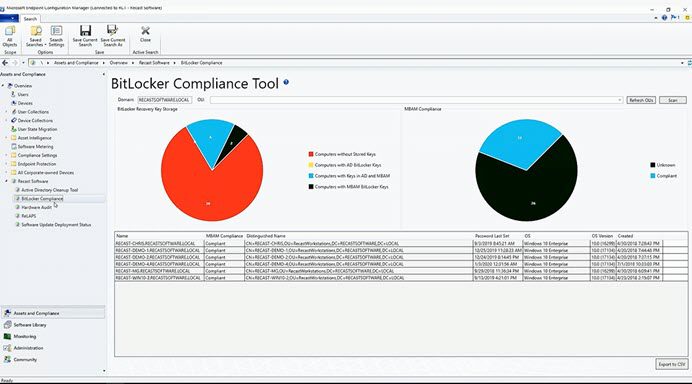 ‍
Hardware & Firmware Audit
Separate hardware into groups based off manufacture, chassis, model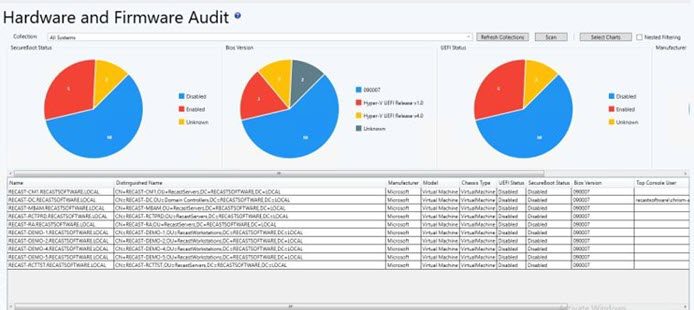 ‍
ReLAPS Dashboard
Shows LAPS compliance for all devices in the environment. LAPS passwords can be reset and given set expiration dates.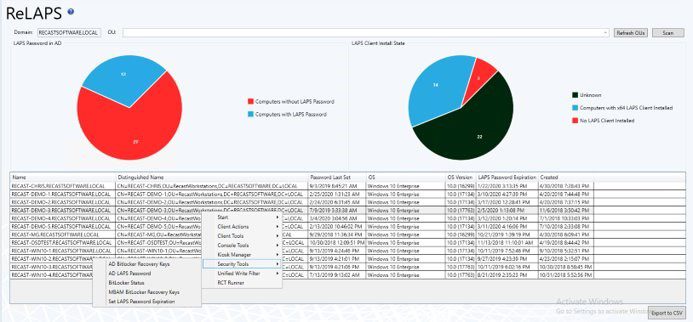 ‍
Software Update Deployment Status
Display compliance for each software update in the environment​. Filter by collections, groups, updates, times, update types, and compliance​. Show any missing updates for an individual device and take immediate action to install selected software updates. Export results to CSV.
‍
Conclusion: Right Click Tools Resolves Security Blind Spots
Surfacing actionable data is a core tenant of what Right Click Tools is all about. When the teams who manage, provision, and support your technology have the tools they need to be better, every aspect of the business is lifted. Better security and compliance.  More reliable computers for end users. More efficient internal processes.  Happier employees, customers and partners.
Interested in learning more? Get a price quote for your environment or visit our endpoint management software page to try these dashboards for 30 days for free.