Right Click Tools
Why Right Click Tools Enterprise is a Must-Have for CISOs and SysAdmins
Why Right Click Tools Enterprise is a Must-Have for CISOs and SysAdmins
Right Click Tools and Admin Rights
Right Click Tools Community enables tens of thousands of SysAdmins to use ConfigMgr with ease and convenience. Tasks that used to take hours are now actioned at the (right) click of a button. Customers consistently state:
"Since we started to use Right Click Tools, our work with SCCM (ConfigMgr) is much easier. . . . once you start using RCT, it's practically impossible to work without them."
"Having worked with SCCM/ConfigMgr for around 7 years, I can't imagine trying to carry out my role without having Right Click Tools installed."
The catch? Right Click Tools Community, the free version, requires admin rights to function. This puts IT leadership and CISOs in a quandary over security.
Thankfully, Recast Management Server (RMS) to the rescue! Recast Management Server (RMS), a Right Click Tools Enterprise feature, powerfully blends functionality and security. Let's take a closer look at Recast Management Server, the solution to power up Right Click Tools and harden your IT security.
The Hurdles of Admin Rights
Admin rights come with their own set of challenges and security risks. According to a 2021 survey by Centrify, 53% of those breached suffered privileged credentials theft within their enterprises.
Within the Microsoft ecosystem specifically, restricting access to admin rights would have prevented 94% of critical vulnerability breaches within Microsoft software. These statistics are precisely why many IT leaders are hesitant to grant admin permissions broadly within their teams.
A Win-Win: Recast Management Server (RMS)
Recast Management Server (RMS) is a feature available with Right Click Tools Enterprise and serves as a centralized web interface that integrates with Right Click Tools, Endpoint Insights, and Privilege Manager, enabling you to use these powerful tools without the need for admin rights.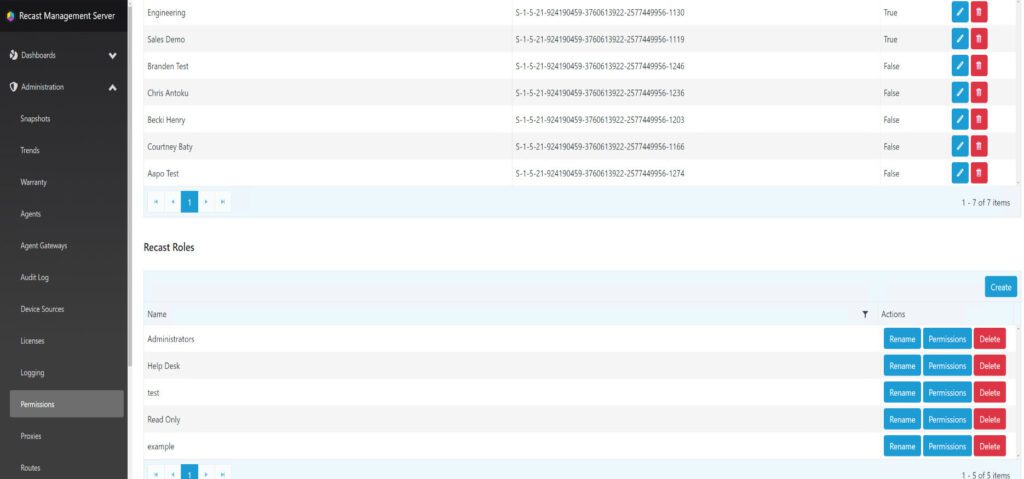 Security Controls
With RMS, you can provide Active Directory users or groups with access to right-click actions comparable to the roles given to them in ConfigMgr. Need to let a help desk user retrieve a BitLocker recovery key but not reset it? RMS has you covered.
Custom Routing and Configurations
RMS enables you to control your routes, allowing you to determine which Recast Proxy to use for specific actions. You can even configure routes for access to devices over the ConfigMgr Fast Channel.
Monitoring and Visibility
Keep tabs on your Recast Agents and Recast Proxies through RMS. You can also audit all of the actions your SysAdmins take. This added layer of visibility ensures you are always in control of your enterprise infrastructure.
A Clarion Call to Managers
IT Managers, if you are looking to empower your SysAdmins while keeping your IT environment secure, Right Click Tools Enterprise achieves both goals. You will gain both the robust features of Right Click Tools Enterprise and the added security layer provided by Recast Management Server.
Save time, reduce risk, and bring efficiency to your IT operations—invest in Right Click Tools Enterprise.
More about Right Click Tools
Right Click Tools is the most powerful ConfigMgr plugin on the market today. 70,000 SysAdmins globally utilize Right Click Tools Community every month. With Right Click Tools Enterprise, SysAdmins save countless hours managing endpoints within ConfigMgr by automating tedious and error-prone tasks.
Here's what makes Right Click Tools the go-to solution for SysAdmins:
Efficiency: Quickly automate tasks to save time and reduce errors.
Compliance: Ensure encryption standards, software updates, and privileged access are all up to code.
Intelligence: Surface crucial information about your enterprise systems to identify and remediate vulnerabilities.
Reach out here to learn how Right Click Tools Enterprise and Recast's complete product suite can help solve core visibility and security issues you face today.
---
Additional Resources
Recast Management Server
Admin Rights