Right Click Tools
How to Remove Content from Distribution Points with Right Click Tools
If you've ever managed a large number of distribution points (DPs), you know that they can frequently get out of sync. Oftentimes you will end up having DPs with old content, or with partially transferred content. Removing old content helps to keep your DPs in better sync, so I'm going to show you how to remove content from distribution points with Right Click Tools.
In one of my previous positions as a Desktop Engineer, I worked for a rural healthcare organization. They had multiple clinic locations that were generally on very slow internet connections. Many of those locations had less than ten total computers, but still needed to be updated with Windows updates on the same cadence as the rest of our computers at larger sites. With those slow internet connections, having just one or two devices trying to download from a non-local distribution point, would slow network connections to a standstill. The solution, decided by our Configuration Manager architect, was to put a distribution point at every location. That meant that we had 153 DPs in our ConfigMgr environment. If only we were using Right Click Tools when I was there. It would have helped a lot!
Remove Content from Distribution Points
There are two ways you can do this, and I will show you both. The first works in any environment from large-to-small. It doesn't matter how many DPs you have. The second method is intended for mid-size to small environments. Both methods are available with Right Click Tools Enterprise Edition. Let's look at the first method.
First Method
Click in the Administration section of your ConfigMgr console and select Distribution Points. The DPs in your environment will be shown on the right-hand side of this page. You can then right click on the distribution point you want to work with, and you will be presented with Right Click Tools actions.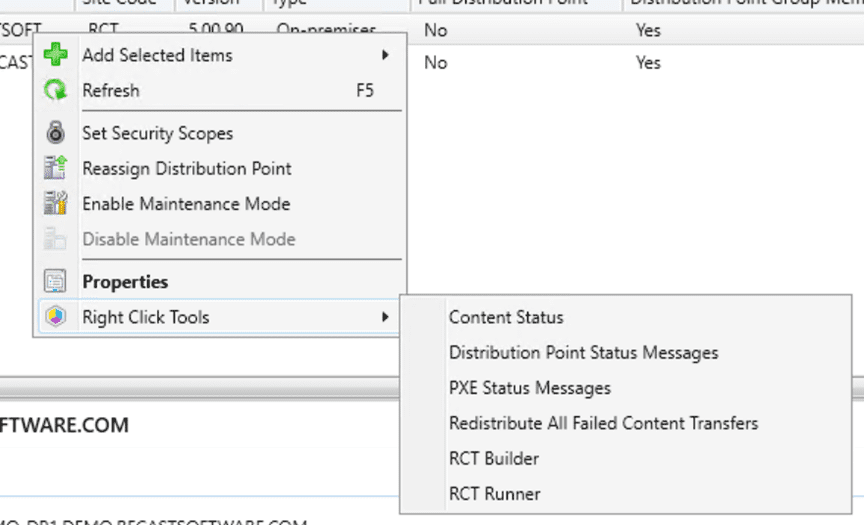 In this example, I am going to concentrate on the Content Status tool, but you can also use Redistribute All Failed Content Transfers if you have transfers that failed, and you want to try to redistribute them.
Once the Content Status window opens, you will see what content was distributed to the DP, along with important content details. You can right click and take additional actions on any of the content items in the window.

Now I'm going to remove some content. There's an older version of Right Click Tools that I don't need anymore. After right clicking on the item, I select Remove from DP from the available actions. Next, a dialog box asks you to confirm your choice. Once you confirm the action and the content is removed, you will see a confirmation dialog box similar to the one below.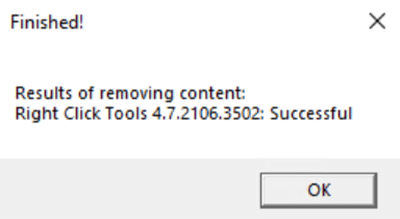 Second Method: Content Distribution Monitor
In smaller environments you can also use the Content Distribution Monitor dashboard to remove content from your distribution points.
This dashboard is underneath the Recast node in the Assets and Compliance section. Clicking on it will open the dashboard showing your distribution points on the top, with content information on the bottom.

You can select content that has been successfully transferred or is in error by clicking on the corresponding section of the bars at the top. For example, by clicking on the red portion of the bar, I can see the content that is in an error state in our environment.

You can right click on any of the content information in the bottom of the dashboard and an action window will pop up.

In this window, we see our goal, Remove Content from DP. Once again there's an older version of Right Click Tools that I don't need anymore. When you click to remove the content, you will get a confirmation dialog box (see below).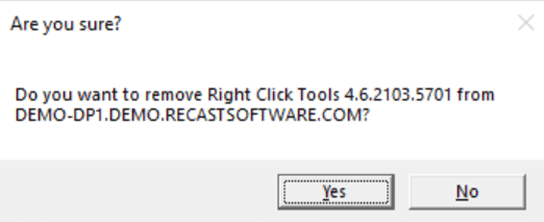 And then a successful result!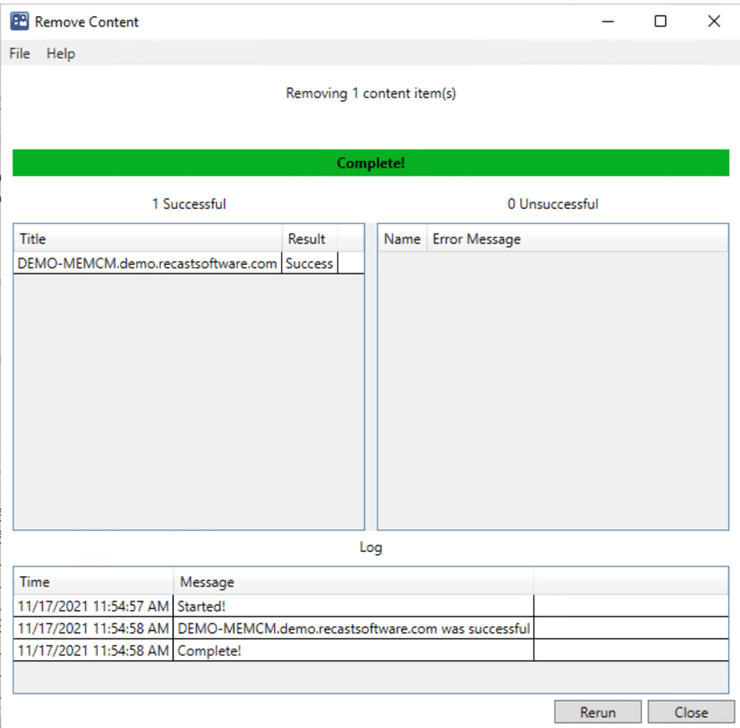 Additional Content Distribution Resources
Now you know how Right Click Tools can help you remove content from distribution points. Whether the content becomes outdated or if you simply need additional space, you see how Right Click Tools can quickly save the day.
Here's more information on our docs page about the Content Distribution Monitor dashboard.
You might also find these Microsoft docs useful too:
If you have any additional questions, please feel free to reach out to me @ConfigMarty or Recast @RecastSoftware on Twitter. For more information about Right Click Tools, please visit our website.
Additional Right Click Tools Enterprise Resources