Right Click Tools
Status Messages and a Nifty Right Click Tool
This week, I wanted to highlight another nifty little tool, which is great for troubleshooting and reporting. Before I tell you which one it is, I'm going to talk about something instrumental in ConfigMgr, but not something we often think about, Status Messages.
What are Status Messages: In System Center Configuration Manager, status messages are the universal means for components to communicate information about their health to the System Center Configuration Manager administrator. Status messages are similar to Windows NT Events; they have a severity, ID, description, and so on. – Microsoft Docs
If you want to go info deeper details about the messages themselves, Microsoft Docs has you pretty well covered. So what do I use them for? Personally, I live in a world of Task Sequences and Deployments, and while Status messages can tell you so much more, I find them primarily useful to keep me notified about a deployment for a machine is doing.
Several canned CM reports rely on status message data to surface data about Deployments. This is very helpful when trying to do near-real-time reporting. You can Monitor deployments, like see which step of a Tasks Sequence a machine is on, how many machines have started a Deployment, or worse, how many have failed a deployment.
Downside of Status Messages, requires network connectivity. This is fine most of the time, but lets say you have deployments running while a machine is offline (Powered On, but not connected to the network). Guess what, you aren't getting those status messages, but that deployment is going, or not going, and you have no idea. You won't really know until it comes back online, and you get updates via Hardware Inventory.
So, yeah, the reports are great, and when monitoring large deployments of machines, you'll want to use the reports, but when you're troubleshooting, and are focusing on one machine, I just want to stay in the console, where all my tools are. That's when this nifty Recast Right Click Tool comes in, All Status Messages / Device Status Messages.
From a Deployment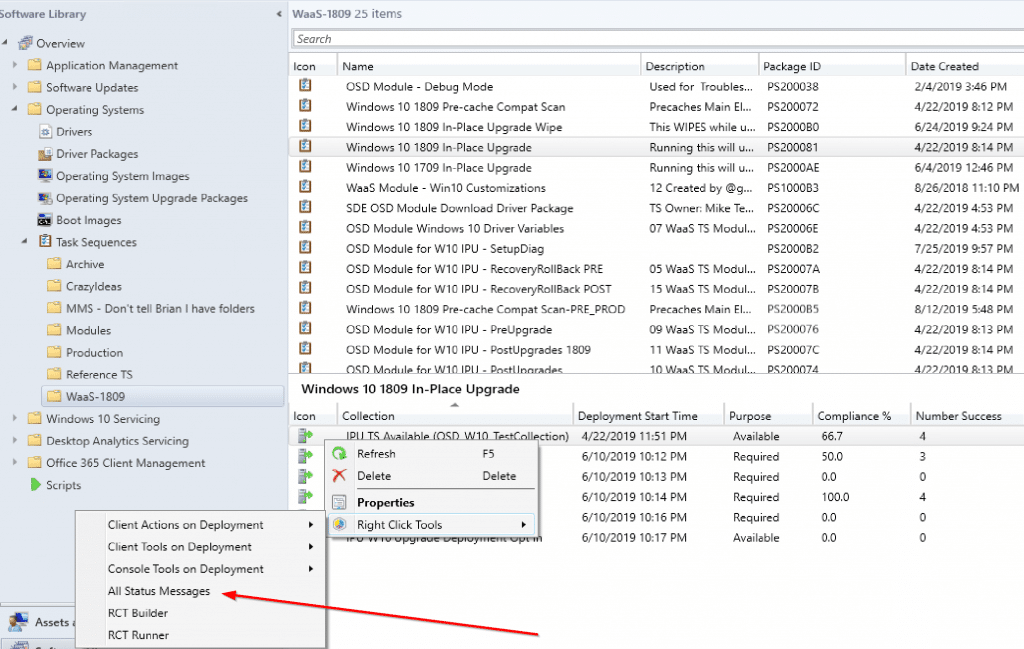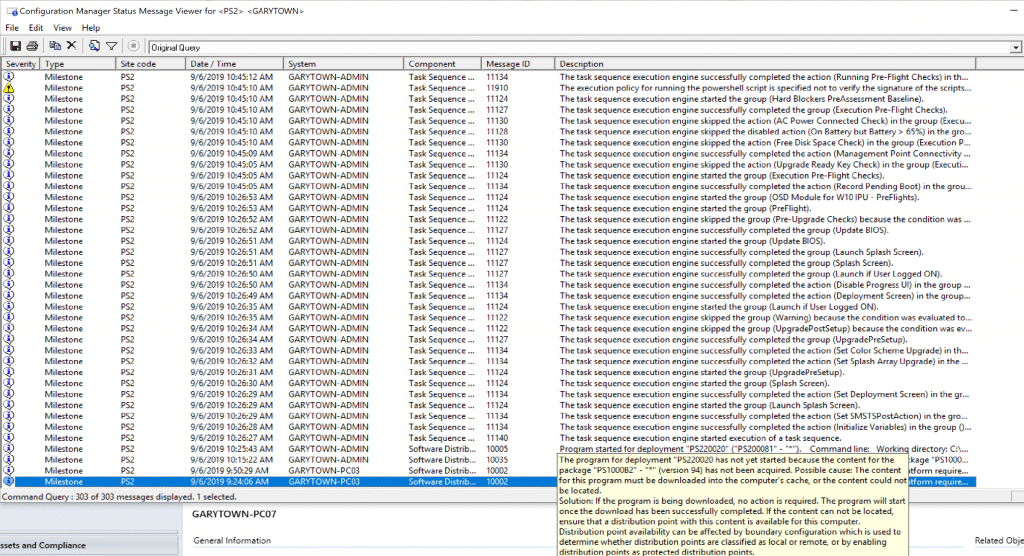 This will show all Status Messages from ALL computers for that deployment, which can get busy, but also help in tracking down patterns.
From a Device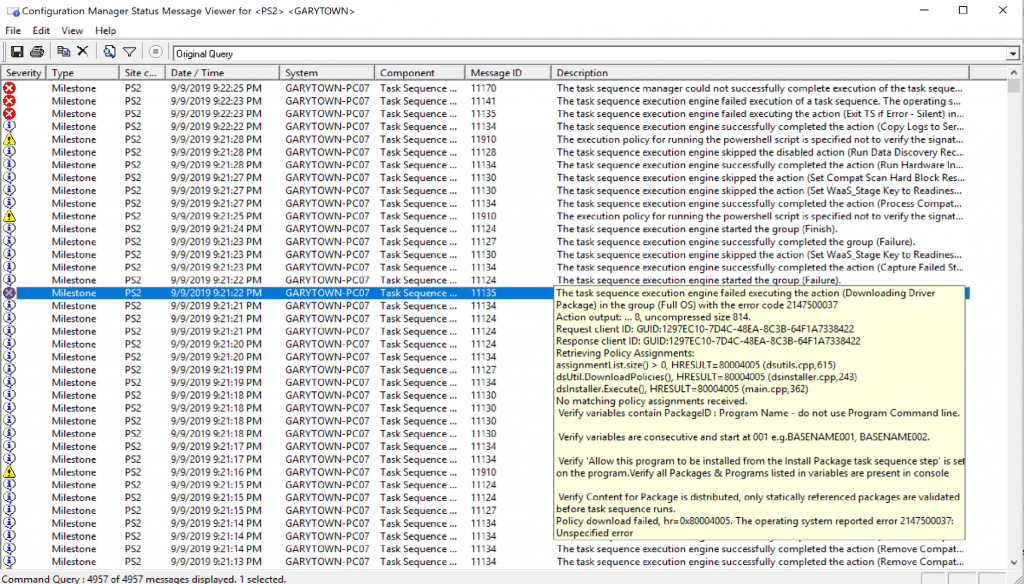 You can see here that it's pulling back all the Status Messages for this specific machine. I also noticed that the upgrade task sequence has been failing on this machine, which I honestly wasn't expecting. It's nice that there is so much info in the Status Messages.
To be clear, the Config Manager Status Message Viewer is built into ConfigMgr, you can pull up this same data without the Recast Right Click Tools. What Recast Right Click Tools provide is a shortcut to this Viewer, that pre-populates the Viewer with the deployment info or Computer name, saving you a step and making it easily accessible. Much of what the Right Click Tools do is surface information, and shorten processes to get to data, enabling the admins to be more effective in their roles. This is another great example of a tool that reduces the "mount of clicks required to access this data, and also putting it front and center as a reminder when I right click on a machine, that this data is available.
RecastSoftware.Com