Endpoint Insights
How to Report a Bug or an Issue in Microsoft Intune
As a long-time System Center Configuration Manager (SCCM) administrator, I finally started integrating Microsoft Intune into my environment because it made a lot of sense. I'd recommend the same for you because it allows you to better manage mobile devices and to use conditional access controls. I decided to write this blog post about how to report a bug or an issue in Microsoft Intune because it's a different process from what you'd normally expect with SCCM.
All SCCM admins know that if you want support from Microsoft, you need to purchase support. This support assistance allows you to call Microsoft Customer Service and Support (CSS), otherwise, you need to figure out the problem for yourself. With Microsoft Intune, on the other hand, support is included! Yes, that is right; basic level support is included at no extra cost. This support is for either standalone Microsoft Intune or co-managed Microsoft Intune.
What does basic support provide you with? It allows you to submit tickets for issues to Microsoft and, more importantly, it allows you to submit a smiley face or a sad face on items that you love or would like to change. This feedback goes directly to the Microsoft Intune team for review.
Since this is a different experience for most SCCM admins, I will guide you through the process here.
How to Report a Bug or an Issue in Microsoft Intune
As a bit of background, I can tell you that I use both a co-managed lab and a standalone lab, but for this guide, I will only be showing you my standalone lab.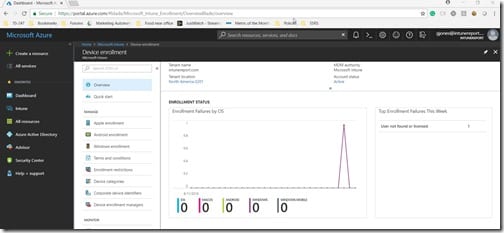 In the above screenshot, you can see that there is an error enrolling a Windows 10 device. On the right-hand side it says, User not found or licensed. In order to get more details, I clicked on it.



On this screen, you can see it lists the user name along with other details. I decided to click on the user name in order to get even more information.



There are more details listed here along with recommended steps, but nothing really new. Next, I clicked on View Morgan Jones's user properties link.



Finally! This is an extremely useful page. I can see that this is obviously a bug. In order to get this fixed, I must submit this issue to the Microsoft Intune team. I started by clicking on the smiley face button in the top menu.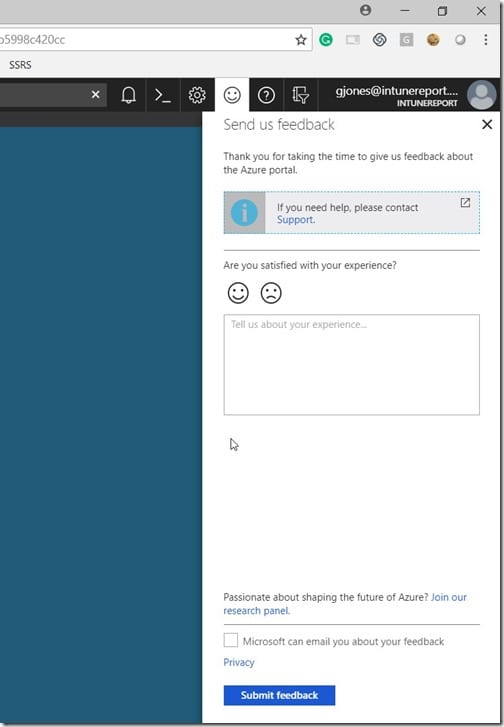 This opens a slide-out window. You can see that I can contact support by clicking on the support link. Instead, I will select the sad face and type in a message.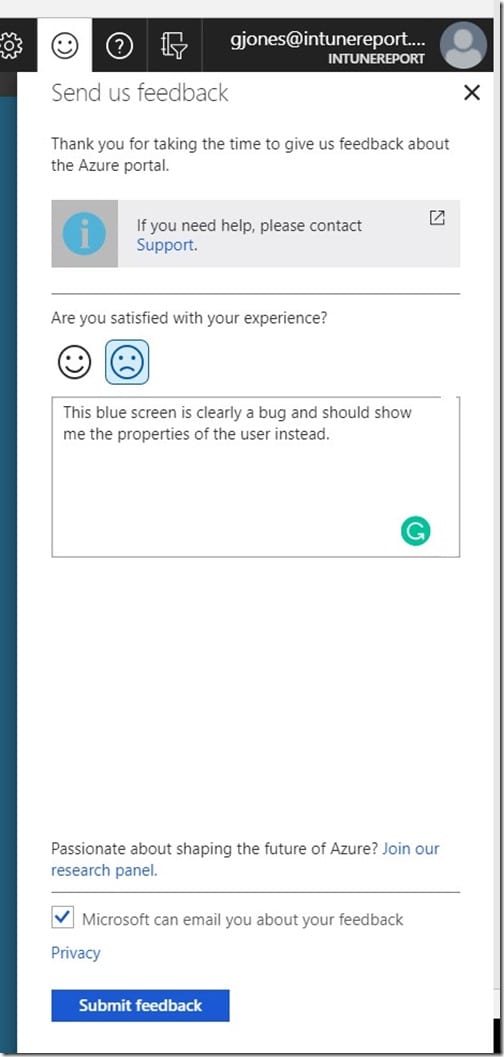 After selecting the sad face, I typed my message in the box and also selected the check box to allow Microsoft to contact me about my feedback.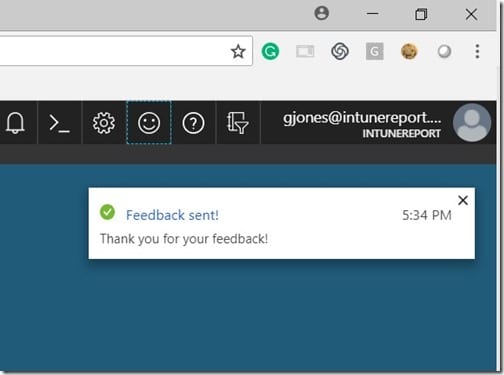 Once I clicked on the Submit feedback button, my message was sent to Microsoft Intune support. You can see from the above screenshot that I received a note stating that my feedback was sent. My guess is that in a few days a member of the Microsoft Intune team will review and take care of it. By the way, I'm NOT expecting anyone to actually contact me about this minor issue. My expectation is that it will be all taken care of most likely in the next month's update.
Tips for Feedback
Who wants to give feedback? Someone who wants change, that's who! If you want something fixed, then you need to provide useful feedback.
Ranting does not help, so here are a few tips:
-First, take the time to provide feedback because, without it, nothing will change. Don't assume that someone else will do it. Honestly, I see this a lot in the forums: people assume that the next person with the same issue will finally do something about it. This, of course, never seems to happen.
-Second, state your reasons clearly and/or give concrete examples of why something needs to change. This helps the team understand the issue and helps them justify why making this change is a priority over other suggestions.
-Lastly, don't expect someone to get back to you about your feedback. Make sure, though, that you always select the option allowing a
Microsoft Intune product manager to contact you. This way if they have any questions or suggestions they can reach you.
If you have any questions about how to report a bug or an issue in Microsoft Intune, please feel free to contact me at @GarthMJ.