Endpoint Insights
A Big Bank's IT Asset Management Success Story 
A National Bank's Success Story 
Transform IT Asset Management with Endpoint Insights
Managing a vast IT infrastructure can be challenging, especially when crucial information about the environment is hard to find. One major national bank knew they lacked visibility into their hardware and implemented Endpoint Insights to improve their asset intelligence. This Fortune 500 bank saved $1 million in service calls alone in their first year. Endpoint Insights changed the game by providing access to hundreds of novel data points, which enabled better decision-making and optimized IT asset management.  
Wasted Service Calls and High Costs
With over 350,000 endpoints to support, this large national bank faced significant challenges in managing their IT infrastructure. Each service call to a workstation cost between $65-$100, and the bank knew they were wasting trips when replacing monitors due to a lack of information about the required hardware, including cables. This inefficiency was not only costing them time and money, but also affecting end-user productivity and satisfaction. IT techs often found themselves making multiple trips to the same location, as they would arrive onsite only to find that they did not have the correct equipment or information to complete the task. The bank needed a solution that would help them access and retrieve essential information, streamline service calls, and reduce overall costs.
Serious Savings by Powering up IT Asset Management
Endpoint Insights provided the bank with a clear way out of their IT management woes. By allowing them to instantly and remotely retrieve essential hardware data, the bank was able to cut down on the number of trips required for service calls. In the first year alone, the bank saved an estimated $1 million just on calls to replace monitors because the IT techs arrived with the correct cable type.   
Additionally, the bank continues to expand its use of Endpoint Insights. As it moves toward a return to the workplace, Endpoint Insights is playing a significant role by assisting with the recovery of tens of thousands of monitors from employees' homes.
The total savings Endpoint Insights has enabled is remarkable, even for this $100+ billion market cap company.
Key Features of Endpoint Insights
Endpoint Insights offers a range of powerful features designed to help IT professionals make better-informed decisions and optimize their IT asset management: 
Comprehensive View: See all computers, monitors, and docking stations in your environment, along with servers, printers, and users.  
Effective Software Management: Better manage software updates, deployments, and user-installed software for a more secure environment. 
Up-to-Date User Information: Access the latest information on users assigned to devices, ensuring efficient support and management. 
Warranty and Device Age: Quickly access device warranty status and device age for proactive budgeting and risk minimization.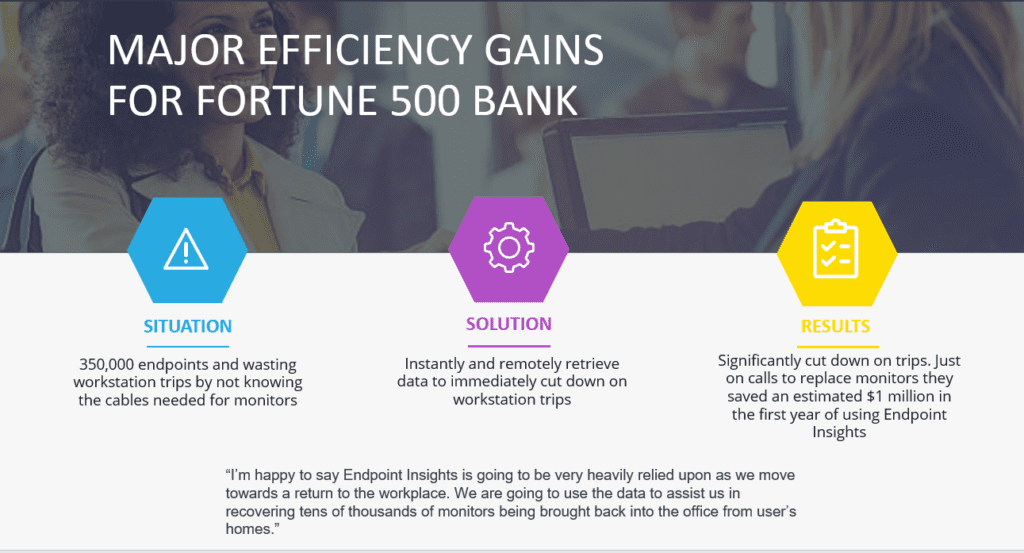 From Reactive to Proactive: The Endpoint Insights Asset Management Advantage 
Endpoint Insights transforms IT asset management, moving companies from a reactive approach to a proactive one. Companies benefit from streamlined processes and serious efficiency gains. By providing clear insight into your IT environment and empowering your team with vital tools, Endpoint Insights can significantly reduce costs and improve the overall effectiveness of your IT department.  
Learn more about Endpoint Insights, Recast Software, and our product suite.