Endpoint Insights
Top 10 Features and Cool Tricks of Endpoint Insights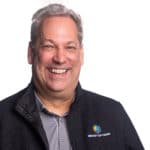 Garth Jones
Published on:
September 21, 2021
Receive notification right in your inbox whenever new content like this is released & sign up for our email list!
We'll send you the latest updates, how-to's, and solutions to empower you at every endpoint.
By signing up you agree to our Privacy Policy.
I was asked to write a blog post about what I think are the top 10 features and cool tricks of Endpoint Insights. There are so many amazing features, I wondered where to begin. As the creator of Endpoint Insights, and after 15 years of working on this tool, I have a lot of favorites. Instead of telling you about every single one of them, I'll just narrow it down to ten. I hope you'll join me to hear more about Endpoint Insights, and a few more cool tricks, at my upcoming webinar on September 23 – Introducing: Endpoint Insights – Webinar – Recast Software.
Top 10 Features and Cool Tricks
Below is my list of the features and cool tricks that are my favorites. These items are in no particular order, but I know each one of them helps make everyone's job in the organization, from the System Admin to IT Security to the Service Desk, much easier. Don't just take my word, come see my webinar and let me show you.
I'll tell you more about each one.
Left Click
Yes, I know Recast is known for Right Click Tools (RCT), and yes, I know we have a product called Shift Left for ServiceNow, but if you only have time to see one thing in Endpoint Insights – this is it! In a nutshell, we NOW can █████████ NDA ███████████! And NOT just with Endpoint Insights, █████████ NDA ███████████! Seriously, you need to see this!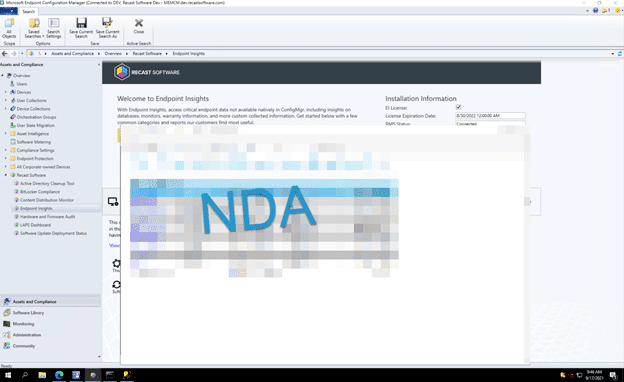 Warranty Data
Endpoint Insights captures more than just the warranty end date of each computer. Warranty data is more complex. We find out the computer's birthdate and warranty service level. Endpoint Insights can do this for over 100 different manufacturers. I have yet to find a company that ONLY has one manufacturer, even if it is just a handful of specialty devices. Of course, besides smaller manufacturers, Endpoint Insights covers all the big, standard computer manufacturers like HP Inc., Lenovo, and Dell.
Security
Security. Security. Security. You are only as strong as your weakest link, and one of the weakest links is having end-users as administrators on their workstations. But, how do you know who is an administrator on each device? Do you know what software updates have been applied? What is your Endpoint Protection status? This is where Endpoint Insights helps you, so you can take immediate action. For example, once you see who is in the administrator group, you can remove unwanted accounts.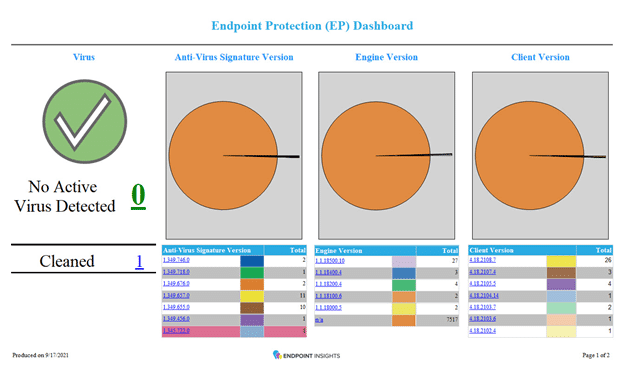 Inventory User Installed Software
Not everyone in your organization may know that an end-user can install software like Firefox, Chrome, and Kindle Reader on their computer WITHOUT administrator access. Worse yet, software installed by an end-user on their device will NOT be inventoried by ConfigMgr.
Endpoint Insights solves this security problem because it extends the inventory collected by ConfigMgr. This allows you to see ALL software within your environment, no matter how it is installed.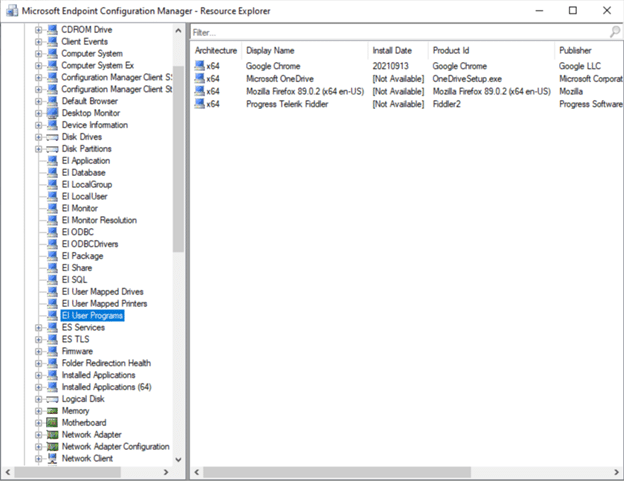 Extended Inventory
Endpoint Insights is NOT about reporting. Endpoint Insights is all about collecting details that MECM does not. Here's just one example, once Endpoint Insights is installed, it inventories all monitors attached to computers. This helps you see the number of monitors attached to each person's computer. It also shows you what resolution each monitor is set to and so much more.
In the screenshot below, you can see that I have highlighted a few more of the items that Endpoint Insights collects from each computer. This is what you can see within the Configuration Manager Resource Explorer. You can also explore the additional datapoints in this video.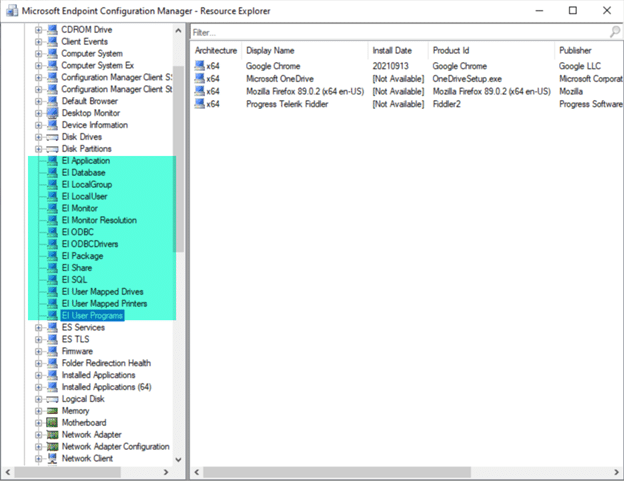 Dashboards
Did someone say dashboards? Endpoint Insights has lots of dashboards and hero reports. There are far too many to list here, BUT what I can tell you is to look above in the Left Click section at the screenshot. I know that the main feature is NDA, but I can tell you that we put all the hero reports in an easy-to-find spot.
ConfigMgr Reports
All I can say now is that this feature is related to what you read in the "Dashboards" and "Left Click" sections. There is more ConfigMgr report goodness to come, even for RCT community users, but you will have to wait and see about that one. For the latest news, make sure you come and see my webinar this Thursday.
User Logon Details
Knowing where users log on is difficult at best, but with Endpoint Insights, it's easy! We created a report that will show you what computers a user is logged on to. Why? When a user calls the support desk and says, "I'm having a problem on my 'other' computer," they usually don't know the name of the computer. Now, your team will be able to tell where they are logged on in no time.

Actionable Insights
Endpoint Insights automatically collects data you wouldn't otherwise have natively with ConfigMgr. This data gives you actionable insights. For example, once you know local user and group details, you can audit your computers for security compliance. Once you know the age of your computers AND monitors, you can easily plan your budget replacement needs with a few simple clicks. Here's another example, once you inventory user-installed software, you can uninstall unwanted software titles. Besides knowing about what's been installed, uninstalling certain software will lower your security risks.
Additional Endpoint Insights Resources
Over the years my teammate, Marty Miller, and I have written several posts to help you manage your environment. For example, Marty just posted one about creating a collection with docking stations.
Also, explore a collection of short videos highlighting core features within Endpoint Insights.
Webinar
Make sure you check out our webinar – Introducing: Endpoint Insights. With the help of Marty Miller, I expand on more of my favorite features and show you some tricks made possible with Endpoint Insights. After you see the webinar, we'd love to hear about your top 10 features of Endpoint Insights. @GarthMJ @RecastSoftware