Did You Know? Warranty Information Reporting 2018
Did you know that Warranty Information Reporting v3.5's second anniversary is upon us? It is and we're excited to celebrate it at Microsoft Ignite in Orlando, Florida! Let's get started with a status update.
Warranty Information Reporting and Intune
Did you know that our new warranty API works with Microsoft Intune? It's true! Now you can get warranty details for all computers and a limited number of mobile devices. More is still to come because we are working hard to expand our list of mobile devices and the number of associated reports.
Make sure to stop by our booth #2113 at Microsoft Ignite to see and learn more!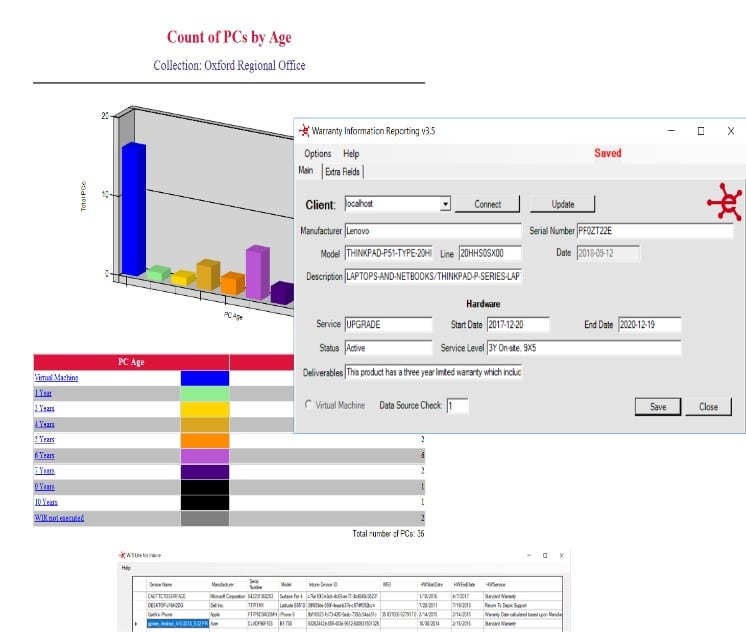 Collection Methods for Manufacturers
We're proud to say that we are very proactive here at Enhansoft. We continually update all of our products and over the course of the past year, the Warranty Information Reporting team either updated or added the automated warranty collection methods for the following manufacturers (listed alphabetically):
Acer
Apple
Fujitsu (some laptops)
HP Enterprises (twice)
HP Inc.
IBM
Lenovo (twice)
Microsoft (three times)
Now Micro (twice)
Warranty Information Reporting
What is WIR? Warranty Information Reporting (WIR) collects warranty details from every computer found within Microsoft System Center Configuration Manager (SCCM). It determines the computer's manufacturer, model and serial number. It then sends these details to our endpoint management software web service which in turn collects the warranty details from each manufacturer. The results (manufacturer name, model name, warranty details, etc.) are normalized and finally returned back to the client. This process only requires a few seconds to complete!
Once within the SCCM database, our 13 reports (26 if you count both the Role-Based Administration (RBA) reports and standard reports together) provide customers with immense insight into their computing environment.
From our experience, most companies have a three to five-year refresh cycle, so our reports are used to list computers by age. This helps our customers efficiently achieve their computer replacement budgeting goals.
Organizations with multiple computer manufacturers, with varied warranty terms, also use our reports to warn them when these computers are coming out of warranty. All of this allows for better budget planning.
Warranty Information Reporting Facts
Here are some interesting facts about Warranty Information Reporting (WIR) from the last year.
WIR fully supports over 25 manufacturers. Over the last year we researched 90+ manufacturers looking to make them new fully supported manufacturers. Of the 90, a few were added to our supported manufacturer's list.
Over 40 manufacturer names were normalized this past year compared to over 100 manufacturer names the year before!
5,000 lines of code were added.
Three "bad" serial numbers were added to WIR's filter list. This was down from eight the year before.
Less than 0.99% of computers are "White Box" computers.
Three manufacturers make up 89.85% of all computers on which WIR reports data.
8 out of the top 10 computer models are either laptops or notebooks.
The average age of computers in our web service is 1,360 days old or 3.72 years old.
The oldest computer is 4,966 days old (13.60 years) and it is NOT an Enhansoft test computer. The previous year, the oldest computer was 15.75 years old!
Over 1 million lines of troubleshooting logs are generated a WEEK!
For every report in WIR there are actually two reports. One is a Role-Based Administration (RBA) report and one is a standard version report. Check out three in action!
Fun Facts
We've compiled some fun facts from our team about the past year.
Over 600 bottles of lime flavored Perrier were consumed.
We emptied over 30 water coolers. We like our water!
A member of the WIR team entered twelve horse shows.
A member of the WIR team hosted one horse show!
Some members of the WIR team watched all seasons of Comedians in Cars Getting Coffee on Netflix. Thanks Rod Trent for getting us hooked!
More Details
Would you like to know more about Warranty Information Reporting and how it can help you? Please see us at Microsoft Ignite in booth #2113 or contact info@www.enhansoft.com.
You can look forward to more advances coming over the next year with Warranty Information Reporting!
See how Right Click Tools are changing the way systems are managed.
Immediately boost productivity with our limited, free to use, Community Edition.
Get started with Right Click Tools today: