Endpoint Insights
How to Send a Smile to the SCCM Product Team
Starting with SCCM's current branch version 1806, you can now send feedback to Microsoft directly through the console. Send a smile or a frown is part of this new feedback feature. I don't know about you, but I find it nice to have a quick way to tell the SCCM product team what I love or have issues with while I'm using SCCM.
Not long ago, I was answering a question within the Reddit SCCM forum and in part of my reply, I said, "send a frown," so that the issue can be fixed. The person responded by saying, "Sorry, what do you mean a frown? I've been frowning at this error enough!" I'm writing this blog post so that the next time I recommend that someone send a smile or a frown to the SCCM team, I can link to it. By the way, I also spoke with a few Project Managers to see what happens once you send a smile or a frown. Keep reading to find out what they told me.
How to Send a Smile or a Frown

In the SCCM console, click on the smile button (in the top right-hand corner), and then select the appropriate send item.
There are three options:
Send a smile

Send a frown

Send a suggestion

In this example, I selected, "Send a smile."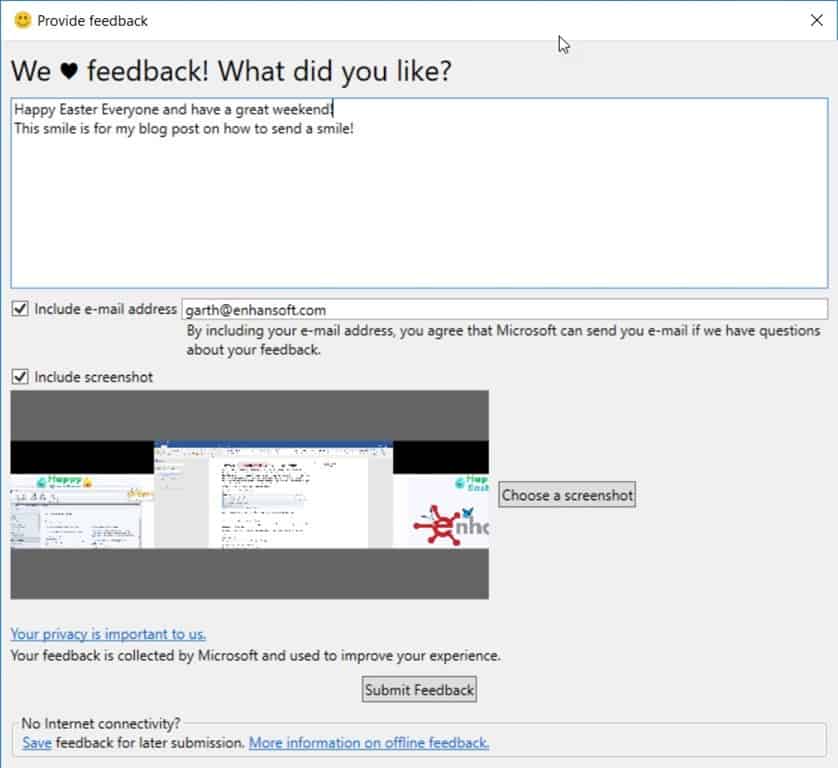 Provide enough details under the feedback section for the product team to understand why you are sending a smile and then enter your email address. By default, a screenshot of your screen is taken and attached to the feedback form.
I happen to have three screens open on my laptop, so you can see all three of my screens. I can decide, however, not to include a screenshot, or I can replace the image with another screenshot.
Currently, there is no way to include log files, but I'm sure that is coming soon!
Once you are happy with the feedback form then click on the Submit Feedback button.

Once your feedback is submitted, you receive a Feedback ID.
That's it. That's all you need to do in order to send a smile or a frown to the SCCM team!
When Should I Send a Smile or a Frown?
The SCCM product team LOVES to hear about things that you love/like, so I'd say send a smile anytime.
Now, when you want to send a frown, only send one when the problem or issue isn't urgent. When is a problem not urgent? When it can wait several months or even longer before it gets fixed.
Make sure that you give the product team enough information so that they can look into the issue for you, and keep in mind that frowns are not meant for feature requests. That's when you can opt to, "Send a suggestion."
What If My Problem Is Urgent?
For urgent issues, contact Microsoft Support directly.
What If I Want to Send a Feature Request or a Product Update Suggestion to the SCCM Team?
For feature requests or product update suggestions, submit your ideas to UserVoice. 
By the way, the Send a suggestion option also takes you directly to UserVoice.
Does Sending a Smile Replace Microsoft Support?
No. This feature does not replace Microsoft Support (CSS).
Should I Expect a Reply for My Smile or Frown Submissions?
Simply said, "No, you should not expect a reply." Sure, you get the automated reply acknowledging your feedback, but that is about it.
What Happens After Sending a Smile or a Frown?
As I mentioned earlier, I spoke to a few SCCM product managers and they told me that every week one of them reviews all of the smiles and frown submissions. Once this is done, they forward the submissions to the team that is responsible for each specific issue.
Sending a Frown Tip – Error Messages
If you want to send a frown (or maybe a smile) based on an error message, there's a simple work-around. In most cases the error message window will block access to the smile button, so simply open a second SCCM console window and then send the frown or smile from that window! By the way, this is a known issue.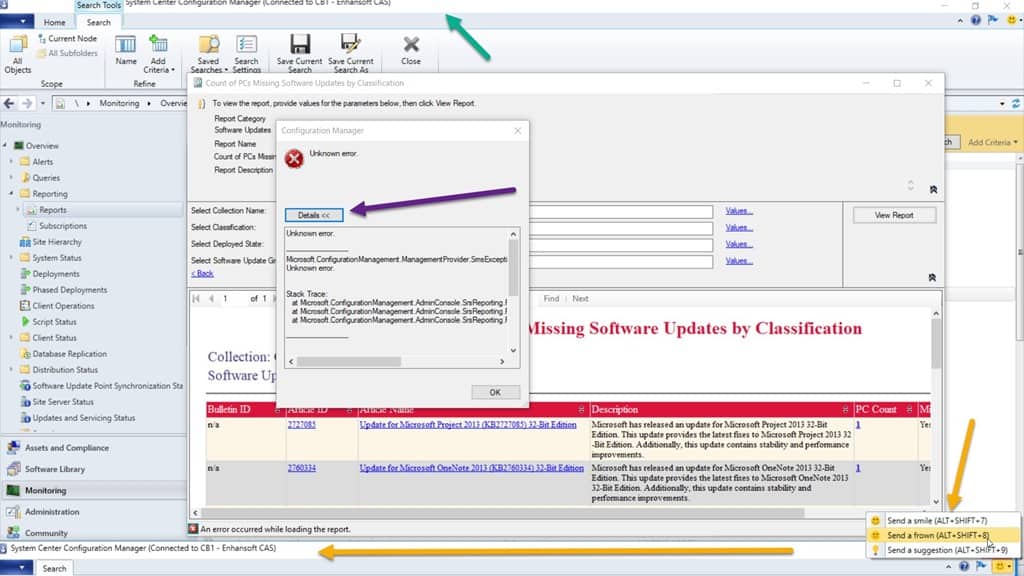 Here is an error message that I'm working on with the product team to solve. How did I send a frown to them about it? First, notice that the green arrow is pointing to the main console. The purple arrow is pointing to the error message and that window is blocking my access to the main console. I had to open a second console, move it to the bottom of my screen, and then clicked on Send a frown (yellow arrows).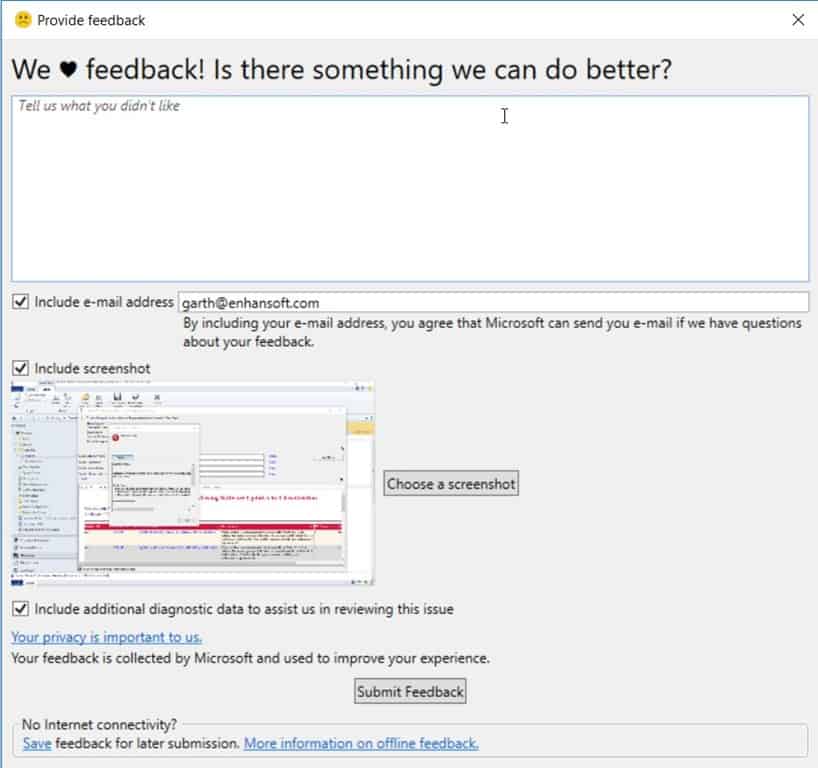 You can see above that both consoles are visible in the screenshot, and more importantly, so is the error message.
Send a Smile Today
Now that you know what to do, send a smile to the SCCM team. They will enjoy hearing how you love the product. Or, if you need to send a frown, do that too. Always remember to give the product team enough information, so they can look into your issue. And, let them know that I sent you!
If you have any questions about how to send a smile, please feel free to contact me at @GarthMJ.