Endpoint Insights
How to Use Installation Prerequisite Check
Before installing a secondary site server, it is always a good idea to confirm that the server is setup correctly before System Center Configuration Manager and SQL Express are installed on it.
In this blog post, I will be checking to see if a remote server is a suitable candidate to become a secondary server for Configuration Manager 2012 (CM12).
On your CM12 primary server, open a command prompt.
Using the CD command, change the directory to the folder in which the prereqchk.exe file exists. In this example it is D:\Program Files\Microsoft Configuration Manager\bin\X64.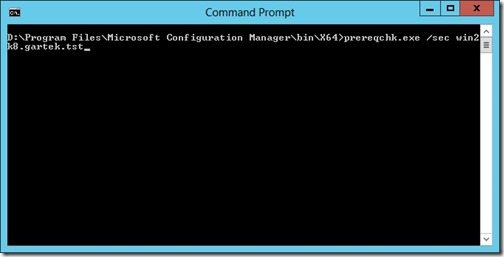 Execute prereqchk.exe /sec <FQDN of the server>. In the above screenshot it is prereqchk.exe /sec win2k8.gartek.tst.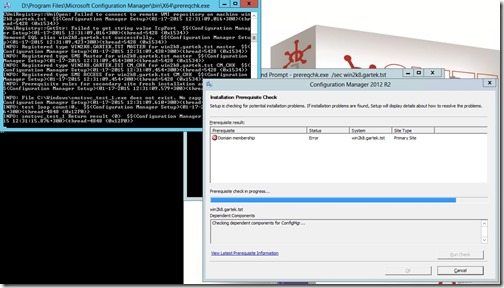 Once you execute the command line, a new command prompt window opens and the GUI shows the progress of the prerequisite check. Wait for the Installation Prerequisite Check to complete.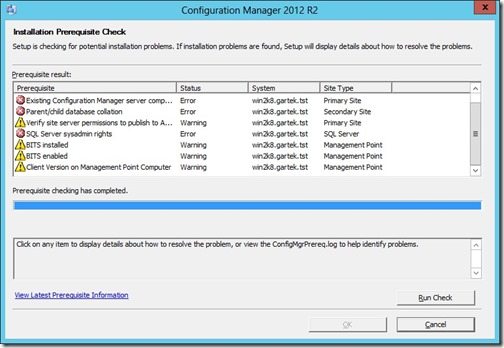 Once the installation prerequisite check is completed, you can see all of the issues with the server and fix them up prior to installing the secondary site server or decide that this server is NOT a good candidate. In my case I don't have to worry because this is a test server to demonstrate how prereqchk.exe works.